Breaking down barriers is old hat for Rabbi Elizabeth Bolton. After all, she's been breaking them since she was a little girl in Montreal.
The 51-year-old lesbian, who serves as a rabbi at Baltimore's Beit Tikvah, an egalitarian Jewish Reconstructionist congregation, says she is reminded of that and of her early passion for Judaism each year as Passover approaches.
Preparing for the Passover Seder, Bolton clears out her kitchen in order to use special utensils and plates — including the familiar pink plate that she has used for Seder since she was 7 years old.
"I remember being the only granddaughter who said the Kiddush, one of the first important blessings of the meal, using traditional chanting," Bolton recalls."The oldest grandchild was a boy and he would get that honor automatically. But because I yearned to do it, even though by traditional mandate the girls would not recite this, I did, because I loved it so much."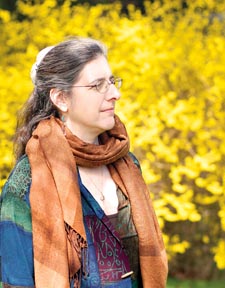 Rabbi Elizabeth Bolton
While Bolton's path led her to the stage as a professional opera singer, her faith remained in the spotlight, leading her to Reconstructionist Judaism. This progressive, American-based Jewish movement that emphasizes positive views of modernism is accepting of gays and lesbians. It offered a perfect fit for Bolton to more deeply explore her faith.
"Historically, Judaism has been regarded as a patriarchal tradition, and yet [it contains] tremendously powerful female characters and narratives," says Bolton. "At the same time there is both tremendous silence and also a lot of apparent sexism, from our contemporary point of view, which then translated into practices that appear to hold women back."
In 1989, Bolton decided to attend rabbinical school.
"I realized that in order to continue to do what I was doing with integrity, I had to study, and I had to study deeply, and that was the beginning of my big journey towards the rabbinate and a rather big career switch."
That switch forced Bolton to leave behind more than opera. She left her native Canada, where in Toronto she had worked as a part-time cantor for a Reform congregation and volunteered with the AIDS Committee of Toronto where she developed Jewish resource materials. But to follow her dream, the path led to only one place: Wyncote, Pennsylvania.
In the late 1980s, the only rabbinical school in North America to offer admission to openly gay students was the Reconstructionist Rabbinical College in Wyncote.
"My decision to go to rabbinical school emerged from a tremendous love and passion about Judaism, but also anger and questioning about the rule of women in the tradition. [And] it was inconceivable to me to attend rabbinical school and hide my sexuality," she says. "How can a spiritual leader in training keep anything so central to their identity in the closet? It made no sense to me to even contemplate that. Although I understand that some people did out of necessity. I've always been very comfortable with my Jewish identity, and I've always been very comfortable on my queer identity. I've always been very grateful for that comfort, because I always feel like it's a source of strength and a gift and it enables me to do my work."
These days, Bolton, a mother of two, serves Baltimore's Congregation Beit Tikvah. But rather than her duties to her congregation or kids, it's the unexpected — yet joyful — work she does that she says makes her feel like a "juggler." That might mean speaking for gay rights, supporting the GLBT rights organization Equality Maryland, performing marriage unions for same-gender couples, or whatever may come next.
"The Rabbinate is incredibly satisfying, incredibly demanding and varied," she says. "I don't even want to call it career or work — it's really my life."
Beit Tikvah is located at 5802 Roland Ave. in Baltimore. For more information, call 410-464-9402 or visit www.beittikvah.org.