For many, memories of high school include at least one late night spent staring at a blank piece of paper (or computer screen) trying to explain what Nobel Prize-winning William Goldings' Lord of the Flies means. Some, cracking under the pressure of an impending dawn, defaulted to a simple and straightforward good versus evil dissection. This group of British schoolboys, stranded on a deserted island by fault of a plane crash, is made up of individuals predisposed to either committing acts of great good or great evil.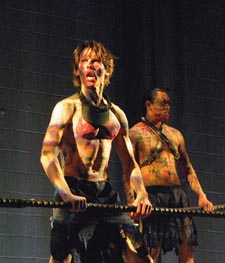 Lord of the Flies at Roundhouse Theatre
Others — those who had discovered the wonders of caffeine — took it a step further. It wasn't that Ralph (Alexander Strain) was particularly good or that Jack (Evan Casey) was inherently evil. It was that they lacked rules. Among the castaway boys only Piggy (Craig Pattison) truly appreciated how important rules were for creating a civilized society. As a result, the rest are felled not by their natures but by their unfettered freedom. Put simply, they don't know when to say when.
And that is precisely the issue with Round House Theatre's production of Lord of the Flies. Seeded with solid inspirations and strong performers, the show is ultimately strangled by taking things just too far.
Particularly strong is Kevin Rigdon's hard edged and unforgiving steel and stone set design. As desperately lonely as Goldings' original text, the haunting nature of the location is a brilliantly drawn element.
Potentially as successful is the decision to flavor the show with radio-friendly but metal tinged music by Beck, Linkin Park, Smashing Pumpkins and Nine Inch Nails. But this is where things start to lose their way. What should have been accent overwhelms and the power of the music is diluted as it is employed less and less intentionally. By the end, the rich playlist is reduced to a loose and unfocused soundtrack.
Flies is also scattered with choreographed bits that range from a slow-motion rugby game to a Stomp-like step dance to a murder scene that is part mosh pit, part production number. These quickly feel overused (particularly the technique of having the cast move in slow motion) and distracting.
Both Strain and Casey bring suitably muscular performances to the stage as the rival chief boys but they are simply not enough to salvage the show as a whole. Some in the cast, like Pattison, take refuge in assuming only one dimension of their lost boy and holding fast. Others, like Patrick Elliott, simply try to power through the show by assuming a grim determination and abandoning any real distinction of character.
Unfortunately for many, this Lord of the Flies will only make for another long night.
---
Kander and Ebb's The Happy Time. Sentimental. Melancholy. Filled with the kind of songs you associate with those movie musicals from the 1950s you watch from the sofa on a rainy Sunday. And there is not one, but an entire battalion of singing, dancing children.
It's wonderful.
The Happy Time is a show that doesn't see the stage very often which makes Signature Theatre's production all the more enjoyable. Like uncovering a great Thai restaurant in an off-the-beaten path neighborhood or an honest-to-goodness independent bookstore, The Happy Time is an unexpected treasure.
Jacques (Michael Minarik) is a photographer who returns to his hometown of St. Pierre, Canada (no province is givenÂ…kind of like a north of the border Simpsons). An Auntie Mame-type character who sweeps into town dragging tales of a wide, exciting world on the heel of his shoe, Jacques is an irritation to his brothers, a favorite of his father, and the idol of his young nieces and his nephew Bibi (Jace Casey).
The Happy Time is really as much Bibi's story as it is Jacques, and be forewarned, absolutely nothing about this musical will shock you, surprise you or cause you to say, "Well, I never saw that plot twist coming!" It's a coming-of-age story. It's a longing for a place in this world story. It's a broken hearted star-crossed love story. But that might be what makes it such a charming piece of theater. Like the softly tinged photographs that grace the back of the stage, The Happy Time is warm and familiar. It is also brought to life by a great cast of actors.
While Minarik's voice at times threatens to overwhelm the relatively close quarters of The ARK (Kiss of the Spider Woman continues to play in the The MAX), he makes for a handsome and intelligent leading man. He is that rare actor who brings genuine emotion to the stage and when he reaches his breaking point you find yourself tumbling gently after him.
Playing the wives of Jacques brothers, Tracy Lynn Olivera and Amy McWilliams are funny and delightful and prove that there really is no such thing as a small part. It's likely audiences will selfishly wish Kander or Ebb had written a more music for Olivera's Suzanne just to spend a bit more time with her voice.
The standout performance, without a doubt, is David Margulies as the family patriarch, Grandpere. Loud and bawdy and, as his big number tells us, "The Life of the Party," Margulies sings and dances and grabs both your attention and, as corny as it sounds, your heart. While the story belongs to Jacques and Bibi, the spotlight in this show belongs to Grandpere.
As is often the case with a Kander and Ebb musical, there is a bit less happy in The Happy Time than one would expect. So why is it, as is also so often the case with the work of these gentlemen, one leaves the theater feeling so very good?