It's hard to find any China-related news these days that doesn't focus on the Olympics or Tibet, which makes it harder for Coco Zhao — possibly China's highest-profile openly gay musician — to enter the local limelight. With luck, however, the limelight won't be as hard as getting into JR.'s during his first visit to D.C. in August 2007.
"I brought my Chinese ID card, but not my passport," he says, joking that he can pass for quite a few years younger than his actual age, 31. "I think they just thought I was too young."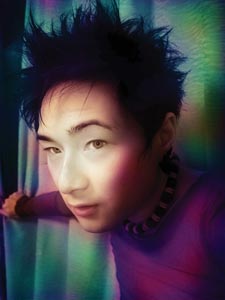 Coco Zhao
That trip found Zhao performing his brand of stylized jazz onstage at the Kennedy Center. This May he'll be performing at the Rosslyn Spectrum.
Although Zhao is a classically trained composer, his love of jazz means his lucky audience will hear a serendipitous amalgam of Shanghai's early-20th century hedonistic jazz lounges meeting the 21st century's culture of globalism and aspirations of personal independence and expression.
"Jazz has the space to let me practice my imagination and technique. It's a space where I can do so much. That's why I like to speak with jazz music."
Still, after his classical training, he still had to convince his parents — both with careers in Chinese opera — that singing jazz was the way to go. His success in his beloved genre has gotten them onboard. Then the other shoe dropped: Zhao came out to his parents.
"When I told my mom, maybe five years ago, she just said, 'I won't talk about it till I know it better,"' he recalls playfully, speaking by phone from his Shanghai apartment that he shares with his mother. "She bought all these medical books about homosexuality, studied them. After two weeks, she said, 'Tchaikovsky was gay, so you can be gay, too."'
Coco Zhao performs Saturday, May 3, at the Rosslyn Spectrum Theatre, 1611 North Kent St., at 8 p.m. Tickets are $20. Call 703-397-SEAT or visit www.ticketmaster.com.