A vast range of influences from various countries, cultures and religions are lumped into what people call "Eastern Art." And unless you know what to look for to pinpoint whether the piece in question is a creation from China, India, Japan, Korea, Thailand or somewhere else, you probably haven't flirted with the exotic genre of art that takes on many forms — in this case, furniture, wall art and statues. You don't have to board a plane and go east to find those things and add substance to your home. Exotic Eastern Art is available all over the city. Here are a few examples:
Frozen Bugs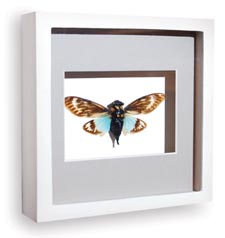 Framed insect
There are some bugs that you must open up your white walls to, including this lovely gem, exported from South Asia. With its honey-golden and delicate-blue wings, it adds life and substance to any room looking for a touch of nature's grace. This and other unique pieces won't make anyone shriek in fear. Instead, the substantially large insects, framed in their full three-dimensional form behind glass, and ranging in price between $100 and $150, will make people gasp with "Ooohs" and "Ahhhs." Available at Simply Home, 1412 U St. NW. Call 202-232-2522 or visit www.simplyhomedc.com.
Warmth and Peaches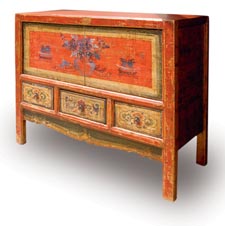 Mongolian chest
Exotic flowers and peaches decorate this antique piece of art from East Central Asia. Made sometime in the early 1900s, the Mongolian dark red grain chest will add warmth to any room. Like all of the furniture sold at DragonFly Design Décor, it's hand selected and has a story to tell. Welcome it into your home and read about its origins and who it was made for a century ago. Or skip the 101 and just get hypnotized by the tranquility and beauty it exudes. Currently on sale for $1,350, at DragonFly Design and Décor, 1457 Church St. NW. Call 202-265-3359 or visit www.dragonflydd.com.
Spread the Buddha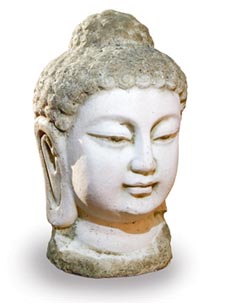 Buddha head
You don't have to be familiar with the teachings of Gautama Buddha to get a sense of peace and tranquility when gazing upon one of the many statues made in his honor. Stone Buddha heads, originally crafted in Indonesia, are available at most décor establishments offering Eastern Art. They have become a staple in home and small garden décor. This trademark piece is available for only $24.99 at World Market, 5335 Wisconsin Ave. NW. Call 202-244-8720 or visit www.worldmarket.com.