It was the early 1960s and Victor Shargai was more than reluctant to leave New York City for Washington. His love of theater kept him in the Big Apple, where the scene was booming. Even after his partner, John Aniello Jr., accepted a job offer with the American Tariff Association in D.C. — a city where a theater community was just beginning to coalesce — Shargai insisted on staying put.
So the couple maintained their long-distance relationship. Until fate intervened.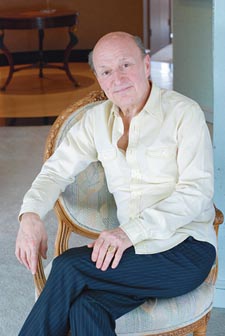 Victor Shargai
(Photo by Todd Franson)
"I was working on a show backstage and had an accident," explains Shargai. "I was on crutches and I couldn't do anything. Then the apartment next door was burned in a fire…and it damaged our apartment. I said, 'Somebody is telling me something."'
Meanwhile, Aniello and Shargai couldn't help but notice that D.C.'s nascent theater scene was blossoming and the latter decided to pin his hopes — still with reluctance — on the nation's capital.
Here, they attended between four or five shows each week. In 1973, they launched their own interior-design firm, Victor Shargai & Associates, which still operates today.
"Joy Zinoman, founder of the Studio Theatre, kept saying 'Victor, I keep wanting to get your friends to come to the theater.' And I said, 'My friends won't go to 14th Street,"' recalls Shargai, adding that at that time the area was crime-ridden. "I said, 'You have to [move Studio] to the suburbs,' and she said, 'I will never go to the suburbs.'
"That's what I think Washington theater is about," Shargai continues. "Where there once was [dangerous criminal activity], there are now million-dollar condos. Joy believed in the neighborhood and stayed there. The same thing has happened in other parts of the city. The economic development that occurs around theaters, including restaurants, hotels…is amazing."
Indeed, theater is booming in Washington, which currently boasts about 70 professional theater companies, producing the second largest number of plays in the country, behind New York.
"It's very fortunate to live in Washington where we can be very proud of the artistic merit that is done in our playhouses," says Shargai.
Promoting that merit for the past 24 years is the Helen Hayes Awards. The local organization that works to build audiences, educate youth and celebrate Washington's professional theater will hold its annual awards ceremony on Monday, April 28, with a show at the Warner Theatre and a party at the JW Marriott Hotel, both downtown.
Before dying of liver failure in May 2006 at the age of 77, Aniello often served as a judge for the Helen Hayes Awards, says Shargai, who serves as the group's chair.
"He brought years of expertise because he had studied [theater]," Shargai says, pointing to Aniello's perpetual interest in theater and ballet. "It was a good combination."
To honor Aniello's legacy, the organization has announced that it will begin this year presenting the John Aniello Award for Outstanding Emerging Theatre. The first recipient will be the Taffety Punk Theatre Company, which performs regularly at various venues, including the Mead Theatre Lab at Flashpoint downtown and the Black Cat on 14th Street NW.
Linda Levy Grossman, president of the Helen Hayes Awards, describes Aniello as an "extraordinary man."
"He was incredibly accomplished, yet quiet in his own way," she says. "He was not the kind of guy who demanded the spotlight in any kind of way. He loved the theater. It was a part of his life. What he really embraced was work that was new and daring — especially from young companies and young artists. He really enjoyed encouraging them. John knew his stuff.
"His contributions were so quiet," Levy Grossman continues, "because from his seat in the theater, he would…encourage the artist. He would help them raise money. When things were looking dim, he would give them a pep talk. He played his role as an audience member brilliantly — and he played it completely. His job didn't stop when he got out of his seat. He continued to talk about it, to share the experience, to try to generate interest in a particular company. And this was over a period of 30, 40 years."
Shargai echoes Grossman's sentiments: "He believed in young people being given a chance."
To that end, audience development is the most important part of the Helen Hayes Awards' mission.
"As Linda says, 'Butts in seats,"' says Shargai. "That's what we're here for: To get butts in the seats, to get people to come out."
That includes students in D.C. Public Schools, Shargai adds, drawing attention to Helen Hayes' efforts to educate children about performance art, which includes bringing them to the theater.
"When they come out [of the theater] it's magic to see them," Shargai says. "They're so energized. It's a life-changing experience. They'll never forget that, they'll have that all their lives."
Reflecting on his own life, Shargai recalls meeting Aniello while attending Queens College in New York City, "a long time ago." The two shared the same birthday, albeit different years, and clicked instantly.
"It was meant to be. We both had a great love of theater," Shargai says. "It teaches you how to think. For me, personally, it makes me understand the world much better.
"The most important thing about theater — different from any other acting medium — is that the audience is part of the play. Every night when the play is done, the audience is different."
Shargai says that the theater gives the Washington audience a chance to become a part of the art on stage.
"It's not like watching television or a movie. You are there, and you count."
The 24th Annual Helen Hayes Awards ceremony is scheduled to begin at 8 p.m., on Monday, April 28, at the Warner Theatre, 513 13th St. NW. Pre-show and post-show receptions will be held at the JW Marriott Hotel, 1331 Pennsylvania Ave. NW. Tickets start at $100. For details, visit www.helenhayes.org.