Jason Horswill is quick to take the funny side of his pre-Main Event gig, spinning at Saturday's Cherry Happy Hour at Halo.
"I'm calling it the fluffer for the Main Event," laughs Horswill.
The local DJ may still be working his way up to becoming a star performer, but what's notable is how quickly he's rising. With only two years of professional DJ experience, the Green Lantern manager/bartender got his big break last September when he headlined Gay Days at King's Dominion. It's all been up from there.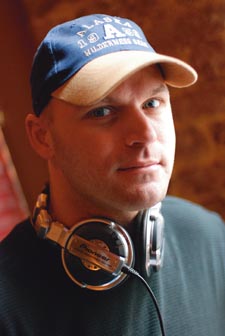 Jason Horswill
"I'm still kind of in awe that I'm doing Cherry," say Horswill, who in addition to being on standby at Green Lantern, currently spins Friday nights at Be Bar's Boysroom party in his drag guise of Lady Coco.
The 36-year-old Horswill was born in North Carolina and originally moved here in 1995 when he was stationed at Andrews Air Force Base. He started spinning as a hobby while stationed in Panama.
"I never really pursued it that much after I got out of the military until I moved back here," he says. "I generally play more progressive house, mainstream dance and electronica. The circuit boys should love that." He cites new remixes of tunes from Madonna, Mariah Carey, Paula Abdul and Cyndi Lauper as what really moves him right now. "I generally get into vocal tracks, stuff you can sing along to — if you know the words."
Early this year, Horswill opened for out-of-town DJs at promotional Cherry events at Apex and Pasha. Now he's in discussion to spin this summer at Rehoboth's Cloud Nine.
Horswill's not sure he'll have the energy to make it to this weekend's Cherry events once he finishes his gig at Halo, though he'd love to make the Saturday Afterhours at Fur: Peter Rauhofer is one of his favorites. "More of the harder-edge stuff that I'll be playing will be some of his stuff."
He jokes about having his energy level up for the weekend.
"I really don't do the whole stay up all night, party all night craziness, so it's kind of tough to keep up with some of those people."
Jason Horswill spins Saturday, April 19, at Halo.