Once upon a time, when sports were the domain of the heterosexual male and outcasts were always chosen last, gay and lesbian athletes were invisible by both choice and necessity.
These days, that's a fairy tale.
While the world of professional sports may have a lot of catching up to do, the amateur sports world bursts with gay and lesbian teams, clubs and competitions. From international events such as the Gay Games to neighborhood basketball courts, gay athletes are here to stay.
When it comes to sports, Washington has an incredible range of choices for gay athletes. Whether you're looking for competition or community — or both — chances are there's a group that shares your passion.
So with the weather warming and teams recruiting, what are you waiting for? Get out there and play!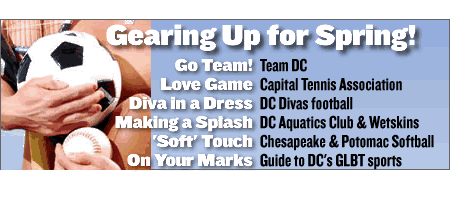 Model: Lucas Vu. Swimsuit pictured on the cover and here: Black Lycra suit by Energie Seaware. $54.50 at Universal Gear