Mitsubishi strikes me as a bit of an odd car company, with some exceptionally strong entries for both performance (the go-go Lancer) and style (the seductively curvy Eclipse). Balancing those out are some, well, not-so-strong models.
Case in point, the Outlander "crossover" SUV — crossover meaning, basically, a car that's been jacked up to ride more like an SUV but without some of the downsides like excessive weight. The Outlander definitely rides more like a car than an SUV, but that's not necessarily a good thing. It feels soft and disconnected in its handling.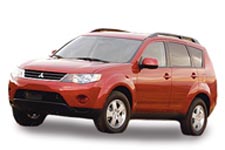 Mitsubishi Outlander
The SE version comes standard with four-cylinder engine, which provides decent gas mileage — 20 mpg city, 25 highway — but with only 168 horsepower at your disposal, getting out onto a busy road requires a touch of caution and some good timing. And I imagine flooring the accelerator over and over to hit merging speed won't help those mpg numbers.
From the outside, the Outlander is competent without being compelling. While the Outlander doesn't stand out with beauty, neither does it stand out with ugliness. It's simply average.
2008 Mitsubishi Outlander SE
MSRP: $23,230
Gas mileage: 20 city/25 highway
Highlights: Less expensive than other brands in class; easy access to large cargo area.
Lowlights: A bit underpowered; uninspired styling.
There's definitely more to like with the interior. Numerous power outlets make it easy to juggle your portable electronic life, and the navigation system (should you choose to spring for it) works pretty well. The cargo area is fairly large. The front seats provide a lot more support than I expected, particularly lateral support.Unfortunately, the back seat was so hard and bench-like that if I closed my eyes I half expected the coach to call me out to play right field. An extended time in the back would not be a pleasant experience.
If you're on a budget but need a larger vehicle, the Outlander might have some appeal for you. But if you have some financial wiggle room, you'll definitely want to do some comparison shopping.