"I tell you, 'Charlie Brown' is a big tipper!" Yvonne Johnson knows just what the crowds like at M Street Bar & Grill. Johnson serves as the singing keyboardist for the venue's Sunday Brunch and its newer Thursday jazz dinner, where diners are entertained by creative takes on American staples both from chef Ronde Murphy and Johnson.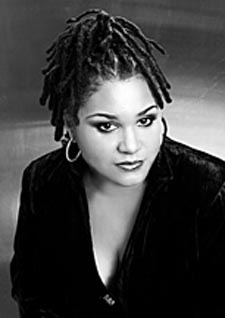 Yvonne Johnson
Besides Vince Guaraldi's popular instrumental from A Charlie Brown Christmas, Johnson says her focus on Thursdays is "contemporary songs that folks recognize." Sundays are a little more standards-based and traditional. But the D.C. native always applies her own "funky jazz twist." And the energy she brings to the task — improvising and grooving along to her keyboard's programmed beats — works to engage the crowd.
"Music is shared," says Johnson. "I share it with myself, but I'd rather share it with others." A graduate of Howard University, Johnson, who is "in her forties," has spent most of career as a songwriter for pop and R&B artists.
"I'm just becoming more public now as a performer," she says. She's excited by the prospect of having a bass player join her at M Street. "That would be great. I love playing with Yvonne Johnson, don't get me wrong. I love her!" Johnson laughs. "But there's nothing like [playing with] other musicians."
Yvonne Johnson performs Thursday nights, 6 to 9 p.m., and Sundays, 11 a.m. to 3 p.m., at the M Street Bar & Grill, 2033 M Street NW. For reservations, visit www.mstreetbarandgrill.com or call 202-530-3621 to book a reservation.