This is a poignant time of year for Jody M. Huckaby, who in March marked three years as the executive director of Parents, Families & Friends of Lesbians and Gays (PFLAG). After all, for an organization that evolved out of one mother — Jeanne Manford, marching with her gay son, Morty, in a New York pride parade in 1972 — the lead-up to Mother's Day, May 11, and Father's Day, June 15, is a perfect fit.
"We launched Bringing the Message Home," says Huckaby. "It's about meeting [congressional] staffers, Congress members, where they are — meeting them in their home districts. It starts this year on the Monday after Mother's Day."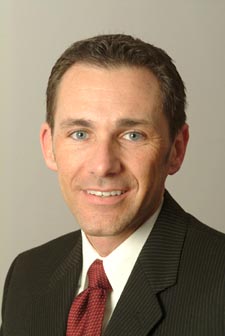 Jody Hukaby
The sixth annual Bringing the Message Home, which will see PFLAG members from the hundreds of chapters across the country meeting with their legislators and other influential public servants on their home turf, may not deliver the outstanding photo ops and sound bites of PFLAG members converging on Capitol Hill with apple pies as happened in pre-9/11 days, but Huckaby would argue that the local strategy is more effective.
"In the days before high-level security on the Hill, we gave out apple pies," says Huckaby, noting that they've continued to outreach in the Capitol, including visits during last October's national PFLAG convention. "You get the critical mass on the Hill, but where I think we're most effective is as a grassroots organization."
And having grown up in Eunice, La. — aka "Louisiana's Prairie Cajun Capital" — Huckaby knows grassroots. Beyond his small-town pedigree, Huckaby also knows all about the family dynamics PFLAG addresses. Of his seven siblings, three of his brothers are gay, as is Huckaby.
"When my first brother came out, it was very painful. We were not going to talk about it and we were not going to accept it."
At the time, Huckaby was home from college, celebrating Christmas with his devoutly Catholic family. He wasn't yet certain about his own sexuality, but says that he remembers that his father's negative reaction to his older brother's coming out made it clear to him that being gay would not be welcome. Nevertheless, he came out himself about two years later, followed shortly thereafter by two other brothers.
But while the family had to struggle with coming to terms with this extraordinary number of gay members, Huckaby today points to his family as something akin to a PFLAG poster family. Even Oprah Winfrey featured them on her namesake TV show.
By the time the opportunity to lead PFLAG manifested, it seemed the family's journey was complete.
"My dad is a very simple man who managed to raise and support eight children. He said immediately, 'Jody, if your work can help just one family deal with this better than we did, it's worth it.' I was moved to tears. They are very proud of the work that I'm doing with PFLAG."
That work demands that Huckaby move around the country constantly, leaving him to joke that his partner, Stephen Goolsby, with whom he lives in Columbia Heights, is a PFLAG widow. The last Monday in April, for example, found Huckaby in Alpharetta, Ga., an Atlanta suburb, speaking to MetLife employees. That engagement was part of PFLAG's Straight for Equality campaign that works in conjunction with several corporate sponsors, including MetLife, to give straight people who oppose discrimination against GLBT people tools and information that will help them be good allies.
"We need a lot more straight people to become allies," says Huckaby. "A lot of straight people are afraid that if they become too vocal, a lot of straight colleagues will think they're gay. PFLAG developed 'Straight for Equality' last year to help build new straight allies. It's not 'Workplace 101.' [These companies have] already done that. But how do you change the culture of a corporation?"
Huckaby adds that these workshops are often preceded by inter-office e-mails complaining that GLBT equality is not an appropriate workplace discussion. But he insists that perspective is as valid a part of the dialogue as any other.
"A lot of straight people just don't have enough information, or they have conflicting religious beliefs," he says. "This is a really uncomfortable discussion for a lot of straight people who are new to this. But it's about helping straight people realize they can play a role, and helping gay people realize they have an opportunity to engage straight people."
Turning back to the upcoming parental holidays, another discussion Huckaby is having seems timely: to parent or not to parent?
Sailing on Rosie O'Donnell's R Family GLBT cruise in March with Goolsby and Goolsby's mother, surrounded by a sea of families, parenting was a hard topic to avoid.
"So Stephen and I and his mother talked about it. We think we have the capacity to be good parents. Then I look at my travel schedule."
Seeing the "wonderful thing" of children and grandchildren in the families of his siblings, Huckaby says that despite the difficulties of work, he's still very open to the idea.
"I'm 43 and my biological clock just started ticking in a fierce way."
While Huckaby continues to ponder the question of parenthood, helping other families in the meantime, he at least has his own childhood memories of Mother's Day and Father's Day to turn to between flights or workshops or press conferences.
"Mother's Day and Father's Day were always about making homemade cards. We didn't have a lot of money, so we would always make cards. And when you're one of eight kids growing up in a three-bedroom house, there's a lot of competition to distinguish yourself. 'Let's make eight different cards and see which one they like best.' And my mother gave us a little bit of money and would take us to the drugstore, so my father always got a bottle of Old Spice."
For more information about Parents, Families and Friends of Lesbians and Gays, including a list of all PFLAG chapters, visit the organization online at http://community.pflag.org.