Jewish food — especially that which is served during Passover — all too often gets a bum rap.
Take gefilte fish, for example. It's essentially ground carp formed into patties and poached in chicken broth. Okay, so it doesn't sound or even look all that appetizing, and I don't have a single non-Jewish friend who will go near the tender morsels (my goyisha husband jokingly refers to it as "gefilthy fish"), but to my palate, it's just this side of heaven. And its inherent blandness makes it a spectacular vehicle for sinus-clearing horseradish, with which no gefilte fish shall ever go unadorned.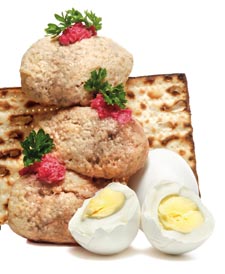 And then there's matzo, the unleavened, baked, craker-like bread that is the staple of the Passover holiday. Consider it a vehicle for a generous slather of soft-spread margarine (butter causes it to break) and an even more generous sprinkling of salt, a mainstay of traditional Jewish diets (along with extra-fatty, extra-juicy meats, pickles, onions and smoked whitefish).
Still, there are some Passover foods everyone adores, often year round. Who, for instance, doesn't drool over a big, fluffy matzoball floating in their homemade chicken soup?
Passover foods hold special significance in the Jewish culinary canon, as they require a re-thinking of how bread-based items can be reconstructed without the use of traditional flour, often using the granular substance known as Matzo meal as a replacement. Bread is forbidden during the eight-day holiday, as are traditional sweets. So celebrated Jewish cooks — aka Moms — have for years used ingenuity and recipes handed down for generations to work around the dietary restrictions and concoct recipes that entice the tastebuds (as best they can) while ensuring that the dietary laws aren't broken.
Unless you're an Orthodox Jew, there is some wiggle room here. Still, if you want to try your hand at some Passover fare, just look at the labels on most grocery-bought items. Qualifying pre-packaged foods will have the imprint "Kosher for Passover," or a simple "P" next to the Kosher designation.
In the spirit of the coming holiday, which starts on Saturday, April 19, at sundown, I requested my mother, Jan, and my little sister, Ruthie, now a Jewish mother of two, offer up a few items suitable for any Seder table.
AUNT DORA'S CHICKEN SOUP
5 lb. pullet, kosher preferred, cut into pieces
6 cleaned carrots, cut in large pieces
6 celery stalks, cut in large pieces
1 onion, peeled
1 sweet potato, peeled and chopped
1 turnip, peeled
Rinse chicken pieces in cold water, then place in a large pot with cold water to cover. Add remaining ingredients. Bring to boil. Strain off "fuzz" with a slotted spoon. Cover and put on low heat and simmer about 4 hours. Remove vegetables and chicken. Discard onion and turnip. Strain carrots (you can leave some sliced for the soup), celery and sweet potato. Put back in soup and simmer another 30 minutes on very low heat. (Cool first if freezing.) Add Matzoh balls just prior to serving.
MATZOH BALLS
2 tablespoons vegetable oil
2 eggs
1/2 c. matzoh meal
2 teaspoon salt
2 tablespoons club soda
1 tablespoon parsley, finely chopped (Optional)
Combine all ingredients. Shape into balls. In a medium pot, bring water to a rapid boil. Drop in balls. Lower heat. Cover partially with lid. Simmer 30-40 minutes. Makes 8 to 10 balls.
RUTHIE'S CHAROSET
1/2 to 3/4 cups chopped medium fine walnuts
5 apples peeled, cored, chopped medium fine
Sweet red wine, just enough to wet mixture
1-1/2 tablespoons sugar
1-1/2 tablespoons cinnamon
Combine ingredients in a large bowl. Cover with plastic wrap and refrigerate overnight — it's best when prepared 24 hours in advance of serving. Wine will settle to the bottom when in refrigerator. Taste before serving and add more wine or cinnamon to taste.
PASSOVER ROLLS
1/2 cup oil
1 cup water
1 cup matzoh meal
1 tablespoons sugar
1 teaspoon salt
4 large eggs
Preheat oven to 350 degrees. In saucepan, bring oil and water to a boil. Remove from heat. Add matzo meal, sugar and salt. Mix well. Beat the eggs and add a little at a time to the above mixture. Put a little oil on your hands and shape mixture into 12 small balls. Place on ungreased cookie sheet and bake for 50-60 minutes.
Variations:
For onion rolls, follow the same recipe but sauté 1 small onion, finely chopped, in 1 tablespoon chicken fat or butter. Add to Matzoh meal mixture after 2 eggs have been worked in. Bake 50-60 minutes in 350 degree oven.
JAN'S KUGEL PUDDING
3 eggs
1/3 cup margarine, melted
1/4 cup sugar
1/2 cup raisins
2 cups farfel
1/2 of 8 oz. jar apricot preserves
2 cups cream style cottage cheese
1 cup sour cream
1/2 cup finely chopped walnuts
2 tablespoons sugar
1 tablespoon cinnamon
Pre-heat oven to 350 degrees. Beat eggs in mixer until light. Gradually add 1/4 cup sugar and beat until fluffy. Put farfel a strainer and run cold water over it until it's soaked through. Remove farfel to a kitchen towel and squeeze out water. Add raisins, preserves, cottage cheese and sour cream and farfel to egg mix. Blend well. Spray 12x 7×2 baking dish with cooking spray (recommended: Pam). Fill with pudding mixture. In a separate bowl, mix walnuts, cinnamon and 2 tablespoons sugar, then spread mixture on top of pudding. Bake for 40-45 minutes, until brown and bubbly.
RUTHIE'S MACCAROONS
10 oz. shredded coconut
1-1/2 cups each chopped dates and chopped walnuts
1-1/2 cups sugar
1/4 teaspoon salt
3 eggs, well beaten
1-1/2 teaspoon vanilla
In a large mixing bowl, combine coconut, dates, walnuts, sugar and salt. Add eggs and vanilla and mix well. Drop rounded teaspoons onto greased cookie sheet. Bake 350 degrees 12 to 15 minutes. Makes about a dozen.
FLOURLESS CHOCOLATE CAKE
12 oz. bittersweet chocolate (recommended: Ghiradelli)
2 sticks unsalted butter, cut into pieces
1/4 cup coffee liqueur
7 large eggs, room temperature
1 cup sugar
1 teaspoon vanilla extract
Preheat oven to 350 degrees. Butter sides of a 9-inch springform pan. Line bottom of pan with parchment paper or waxed paper, and butter paper. Wrap outside of pan with foil.
Stir chocolate, butter, liqueur and vanilla in heavy saucepan over low heat until melted and smooth. Remove from heat. Cool to lukewarm, stirring often.
Using an electric mixer, beat eggs and sugar in large bowl until mixture is very thick and pale, about 6 minutes, until slowly dissolving ribbon forms when beaters are lifted. Fold 1/3 of egg mixture into lukewarm chocolate mixture. Fold remaining egg mixture into chocolate.
Place prepared pan on baking sheet. Pour batter into prepared pan.
Bake 50-55 minutes, until top is puffed and cracked and a toothpick inserted into center comes out with some moist crumbs attached. Cool 5 minutes. Gently press down edges of cake (optional). Cake will fall a little. Cool completely in pan.
Using small knife, cut around pan sides to loosen cake. Remove pan sides. Place plate over pan and invert onto plate. Peel off parchment. Slice into thin slices — it is very rich. Serve with a dollop of Cool Whip, whipped cream or ice cream.
MATZO BRICKLE
4 sheets matzo
2 sticks salted butter
1 cup dark brown sugar, packed
12 oz. chocolate bits
1 cup coarsely ground walnuts
Preheat oven to 450 degrees. Line bottom and sides of large cookie sheet with foil. Lay matzo sheets as close as possible in one layer in pan, breaking pieces to fit around.
Melt butter with brown sugar in saucepan, stirring frequently until it bubbles. Pour this hot mixture over matzo and spread to coat. Place pan in oven for only one or two minutes. Watch to see it doesn't burn.
Remove pan from oven, sprinkle chocolate morsels over top, return to oven for another minute or two, just until morsels are soft. Remove pan from oven and spread chocolate with spatula to cover matzo. Sprinkle with nuts.
Freeze brittle in pan for 20 minutes or until hard. Then crack into small pieces, seal in plastic bags and store in freezer.