Anyone lucky enough to see Arthur Miller's Death of a Salesman and A View from the Bridge consecutively (and thanks to Arena's Arthur Miller Festival, you can) immediately will notice this seminal contemporary playwright's unblinking fascination with middle-aged men imploding like dying stars. The plots may be different, the characters diverse, but each play nevertheless offers a man discovering, with catastrophic personal consequences, that he is completely at odds with his world. Without anchors of self-knowledge, these men have nowhere to go but down and as they begin to unravel, Miller explores their effect on everyone within emotional grabbing distance — the wives, the friends, even the on-lookers, but most especially the children on the cusp of emancipation.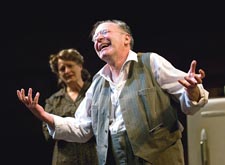 Death of a Salesman at Arena Stage
And thus Miller's genius: although these plays are ostensibly about two deeply traditional men from the 1950s, they are so rich with the dynamic of families and the universal agony of just "getting it wrong," they remain edgy, current and extremely riveting.
Most are familiar with Salesman's travails of Willy Loman, the archetypal post-industrial loser who works like a dog but never gets his promotion. It is, of course, a theme that has been lifted and repeated ad nauseum in popular film and TV plotlines. But it is easy to overlook the profundity of the original play, how little it really has to do with "staying current" at the office, how much more it has to do with the questions so many of us are asking today with ever greater urgency: "Why am I here at this desk making money for someone else while my life is passing me by?" "What really are these goals we so take for granted: ever more money, getting ahead, conforming?" And that's just for starters. Miller also explores the intricate myths and faultlines that occur in any family under stress. The talk in Salesman may be of high-school football heroes, but the weight of parental baggage by any name is universal.
Such intensities are a tall order for any cast, but director Timothy Bond keeps the center of Arena's Salesman tight while allowing the actors room to find their characters. Rick Foucheux delivers with indefatigable gusto a Loman who is as unsettling as he is compulsive to watch. Though Loman has worked decades for a company that has increasingly marginalized him and dishonored his devotion, it becomes readily apparent that his submissive posture ends at his doorstep. He cannot wholly be pitied, as his wife so desperately wishes, even as he draws down his sad cocoon of half-truths and delusions, for he has also been profoundly selfish. Foucheux captures this dichotomy very well — Loman is thoroughly unlikable and yet his flaws are complex, credible and deeply human.
Playing Loman's two sons are Jeremy S. Holm as Biff and Tim Getman as Happy. Holm works hard for the core intensity of this young man upon whom Loman has heaped so much baggage but tends to over-play and it does dampen his effectiveness. Getman in contrast seems more comfortable in his skin (though his comic charisma tends to bring SNL sketches to mind) and his nicely crafted Hap generates some palpable pathos within the family. Nancy Robinette grapples admirably with the difficult role of Loman's wife Linda, who for reasons generational, cultural and obscure, continues to stand by Loman at his worst.
Mention must also be made of two smaller but beautifully played parts: Noble Shropshire as Charley, and Louis Cancelmi as his son, Bernard. With every scene-stealing appearance, one wishes they had more stage time. And in A View from the Bridge they do, since most of the actors in Salesman return in roles opposite in size.
Despite the strengths of Salesman, View, it must be said, is the better of the two productions. With a reconfigured ensemble, director Daniel Aukin creates a phenomenal piece of high-tension drama. It is a story executed with unprecedented unity and shared vision. Everyone is on board and it is a riveting ride.
The premise itself is explosive. An uncle deeply but unwittingly enamored of his niece becomes increasingly desperate to derail her nascent love affair with a young immigrant lodging in their house. Like Salesman it is set in the '50s, but its story takes place in a tight-knit Italian community of longshoremen in Brooklyn.
DEATH OF A SALESMAN





A VIEW FROM THE BRIDGE






In Rep
To May 18
Arena Stage
1800 S. Bell St.
Crystal City, Va.
$47-$66
202-488-3300
www.arenastage.org
Taking the role of the Eddie — the uncle — is Delaney Williams, familiar to many as the irascible homicide boss on The Wire. Although the performance lacks subtlety at times and Williams looks far too modern to be living in the compulsive domestic order of a working class family of the era, he nonetheless succeeds in communicating the emotional meltdown of this man full-throttle. He captures well the way Eddie uses anger to deny everything that is staring him in the face, although the moments of tears are somewhat less compelling.
Naomi Jacobson as Eddie's beleaguered wife Beatrice is superb, as is Virginia Kull as Catherine, the niece. Jacobson delivers a consummate embodiment of the hard-bitten, enduring wife from which such modern day heroines as The Soprano's Carmella springs. Kull positively breaks the mold with her rendition of the girl-woman Catherine. In this day and age it is so very hard for actresses to escape the "required" kittenish affectations, yet Kull, relying on none, gives the kind of powerfully memorable performance today's Hollywood stars can only dream of.
Returning in the much larger role of new immigrant Marco, Louis Cancelmi offers a wonderfully crafted character whose inner-fires he reveals with great subtlety. David Agranov takes the role of Rodolpho, Catherine's immigrant beaux and although his performance begins somewhat uneven. He seems almost too remote to spark something with the volatile Catherine, but gradually reveals a very distinct, understated presence that becomes a compelling counterpoint to Eddie's emotional wildness.