It was a particularly magical night in D.C. seven years ago when Circuit Mom made her first Cherry appearance.
"That particular event is up there in my top-three highlights in 12 years of doing this," says Matthew Harvat, nee Circuit Mom, of 2001's Cherry 6. "The night and the magic and the people who were there were just over-the-top embracing."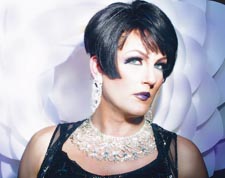 Circuit Mom
While a fixture on the circuit as Mom, the 43-year-old Harvat has become one of the better-known DJs and promoters in his home base of Chicago, including for the city's storied International Mr. Leather event.
With his rich background in musical theater and extensive experience in the nightclub business, Harvat says it "seemed liked a natural progression" to move from being a bartender/DJ to a club performer. He credits his choreographer Todd Kiech with the idea of producing "Broadway-style production numbers" set to dance music.
"I'm an actor who moves well," he says. "I don't fancy myself a dancer." And as Circuit Mom, he's busy stepping in and out of the dancing, while lip-synching and commanding her circuit flock.
With six years having passed since Circuit Mom's last Cherry moment, Harvat says he's looked forward to coming back — and this year's Main Event theme is the proverbial icing on the cake for this mainstay of Gay Days at Walt Disney World.
"The theme is 'An Enchanted Cherry,' a take off of the Disney theme," he laughs. "It cracks me up."
What about the rest of Circuit Mom's biography?
He first took the stage in 1996, when Harvat's friends finally prodded him into drag.
Yes, there is a Circuit Dad, but he no longer travels the circuit with Mom.
Resourcefulness is a motherly hallmark that led to success at Atlanta's 1996 Hotlanta party, where the water bottles ran out — Harvath took to the floor with cups of water in Adidas snap-on pants ("In '96, that's what we all wore," he says). His maternal concern prompted a remark, "That's our circuit mom," and the rest is history.
"It just sort of stuck," says Harvat, who likens his Hotlanta waterbearing to the Kool-Aid character busting through brick walls in commercials of his youth. "The next thing you know, it's a trademarked name that I own."
Circuit Mom performs Saturday, April 19, at Cherry's Main Event.