While many New Yorkers spent late 2001 trying to make sense of the new post-9/11 world, Freddy Freeman spent the time making his world bigger. He wasn't thinking bombs and bin Laden, but rather bands and bears.
"In late 2001, I discovered OutMusic," says Freeman of the New York-based alliance of GLBT musicians and other performers. "Until then, I'd only been doing music in my room. Their open mikes really gave me the impetus to be an out gay performer, to take my music out to other people. I found my identity as an out gay musician. I discovered the bear community at the same time."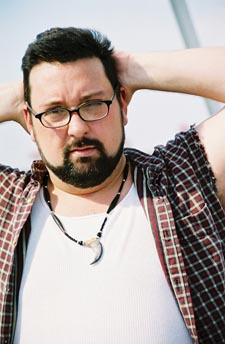 Freddy Freeman: Bearapalooza
Freeman jumped into both new scenes with gusto, making as much an impact on bears and gay music as they were making on him. He decided to produce a concert comprised of — and for — the bear community, and on Nov. 11, 2002, Bearapalooza was born.
"I didn't expect it to be much, just me and my friends," Freeman recalls, "but it just seemed to be the right place and the right time. I couldn't fit everyone through the door. It was about two-thirds bear community, but also musicians from the queer community."
In the time since, Bearapalooza has grown, making stops nationwide, including an upcoming show for Baltimore's Creative Alliance on May 7 and one in D.C. at Remington's on May 8. Both shows are part of the "Bearapalooza Road Trip," hitting a total of six cities.
Local celebrity bear David Moretti will emcee both shows, and scheduled performers at both include Kendall, Nekked and Steven Gellman, as well as Freeman and several others.
Freeman says all the planning and promoting is exhausting, but takes pains to thank local groups such as the District of Columbia Bear Club for helping with arrangements.
"We're not like big promoters trying to make a profit," he says. "We're a collective. Everyone pitches in."
The Baltimore Bearapalooza show is Wednesday, May 7, at Creative Alliance at the Patterson, 3134 Eastern Ave., at 8 p.m. Tickets are $8. The Washington show is Thursday, May 8, at Remington's, 639 Pennsylvania Ave. SE, at 9 p.m. Tickets are $10. For more information, visit www.bearapalooza.com.