Brian Watson likes to fix things.
But a decade before making Washington his home and establishing himself as one of the city's most prominent young GLBT activists, the Oklahoma native was battling his own personal demons that had set his life on a dangerous path.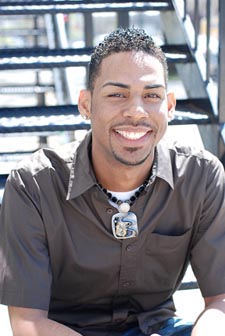 Brian Watson
"[A friend] had died from AIDS and when I saw him in the casket, I got a reality check," Watson, now 26, says of the "darkest period" of his life. It was a rebellious time of partying, skipping school, and avoiding routine that sparked from the rejection he faced as a gay teen from his beloved local church.
"I had done everything that I was big and bad enough to do, except drugs," Watson says about that fateful funeral. "I thought, 'I can't go down this road."'
Today local D.C. residents and activists know Watson as the Director of Programs at Transgender Health Empowerment (THE) and president of the D.C. Coalition of Black Lesbian, Gay, Bisexual and Transgender Men and Women. He is a proactive member of a handful of other GBLT, HIV/AIDS and health-related organizations, and serves on the Advisory Committee to the Mayor's Office of LGBT Affairs.
Last year, Watson was recognized as a Capital Pride Hero. And on Thursday, April 17, the Gay and Lesbian Activists Alliance (GLAA) is scheduled to honor Watson with a "Distinguished Service Award" during its 37th anniversary reception at the Washington Plaza Hotel in Northwest.
The other honorees are Dignity/Washington, which has provided healing outreach to GLBT Catholics since 1972; Christopher Dyer, director of the Mayor's Office of LGBT Affairs; the D.C. Office of Police Complaints; Sanja Partalo, a former staffer for Councilmember Phil Mendelson (D-At Large), who worked on the Domestic Partnership Equality Act of 2005; and PreventionWorks!, which provides needle exchange and other harm-reduction services.
"On GLAA's birthday, we like to celebrate others. Whether offering spiritual ministry, preventing HIV transmission, improving police accountability, or crafting legislation, these honorees have served our community with distinction," says Richard J. Rosendall, GLAA's vice president for political affairs.
When talking to Metro Weekly about his contributions to D.C.'s GLBT community, Watson takes a modest approach and avoids looking back, focusing instead on the road ahead.
"When I came here I saw that there really was a need for a housing program for homeless gay youth," he says. "Now, luckily, through much advocating and through much work, we've finally been able to open a house for gay youth."
Watson expects the home, created to serve GLBT youth between the ages 16-24, to open in Northeast within the next month. Even though it's being operated by THE, it's open to all GLBT youth, he says.
"Everything is pretty much done and we expect to make an announcement about it in the next few weeks."
Watson's advocacy can be traced to his adolescence in Oklahoma.
"Most of my friends were older and so I did get to see a lot of people [I knew] pass away…from HIV and AIDS."
At that time he envisioned a musical career for his future.
Watson wrote songs and played the organ at a church in his hometown, and took up drumming with a marching band in high school. He also played saxophone and hoped to one day become a high school music teacher. But when he was outed by another member of the church, things changed.
"The pastor took me into his office and basically just told me all of the typical things that a pastor tells somebody when it comes to being homosexual: that it was wrong, and that I couldn't be in the church while I was engaging in that type of behavior."
Watson calls that time "the most horrible" in his life because it came between him and his church.
"I actually came back to the pastor and told him that I wasn't gay anymore, because I wanted to be there so bad. But me playing for the church was never the same after that.
"I felt like this church cannot be serving the same God that made me. I left quietly."
After a rebellious streak, a result of the anger caused by his dismissal from the church, Watson graduated from high school in 1999 and moved to Philadelphia. He completed a medical assistant program at the Delaware County Community College in 2002, and by his early 20s found himself in Washington, mingling at social events with other local activists. Among them was the late Wanda Alston, who was working as the liaison to the GLBT community for former Mayor Anthony Williams.
The two clicked, Watson says.
"I got really close to Wanda and I told her about the [GLBT advocacy] that I was doing in Philadelphia and she asked me if I would I like to sit on the Mayor's GLBT Advisory Board."
"It got the ball rolling for me," Watson says of his friendship with Alston. "I never saw myself as a community activist. I never saw myself doing the work that I'm doing now, and for her to embrace me the way that she did… that was a big deal for me."
Their friendship came to an abrupt halt when Alston was murdered in her Northeast apartment in March 2005 by a neighbor seeking drug money. Her work left a lasting impression on Watson.
As the president of the D.C. Coalition, Watson also caught the attention Earline Budd, then executive director of THE.
"He had so much to give based on the folks that I knew that had come through programs over at the [D.C. Coalition]," she says.
"Communities can learn that it's not so much about the age in terms of one being young, it's about what one aspires to be. Brian shows that while he's 26, when you look at him, his programmatic level and functioning level… is on the level of someone who may be 35 or 40 years old. It's very unique."
Monet Dupree, health educator at THE, echoed Budd's sentiments.
"He has a sensitivity that the average gay male does not have," she says. "He treats me and everybody that comes through the building as a human being and not just as a client or staff [member]."
Watson says it's working at THE that's kept him going.
"I continue to see every day just how the transgender community is stigmatized," he says. That understanding "keeps me doing the work that I do," even when it takes a toll on him.
Watson says when he first started at THE, everyone thought he was "transitioning" from male to female.
"My mom was the only person who wasn't confused," he says. "I think she knows that I'm kind of an all-around guy."