While springtime may be the busiest season for airing out the homestead, some people have been working since fall.
Namely, Junk in the Trunk, a husband-and-wife hauling service that's become a major hauler of junk for the gay community as a sponsor of the annual Halloween High Heel Race along 17th Street NW.
"[The race] is always a fun event we've enjoyed going to, so we just offered to do the clean-up," says Linden Coyne, half of the Junk in the Trunk team.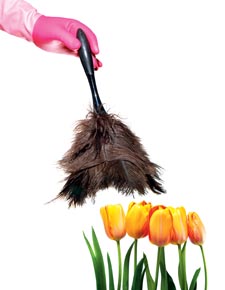 But while Halloween racers and revelers rely upon Junk in the Trunk's bubblegum-pink truck to haul away their various cups, beads and faux breasts, spring is a great time to look to JITT's services for a more mundane chore: spring cleaning your home.
"Spring is generally our busiest time," Coyne confirms. "People start purging."
Should that purge include furniture or just old stacks of newspapers, JITT is prepared and will price the pickup based upon how much truck space is filled by your flotsam. The minimum is $114, offering two cubic yards – enough space for the average sofa or even an old refrigerator. Filling the entire truck – read nine sofas – tops out at $600. That math means it may be more cost-effective for apartment/condo dwellers to team up for a collective haul, which is perfectly fine by Coyne.
Coyne and company are so easygoing, in fact, that clients needn't even sort their unwanted odds and ends, nor pile them at the curb.
"We come inside. All you really have to do is point at it and we'll take it, whether it's in the attic, basement or the garage. You don't have to pull it out or separate it. You don't have to deal with it at all."
On top of that convenience, there is the added satisfaction of knowing that JITT will sort your garbage for recyclables and donate-ables. And while their Web site advises that JITT may donate bits of your trash to the Salvation Army, Coyne assures that if you don't want your old Tinky Winky doll aiding Salvation Army efforts, it's your call. Advise JITT of any donation station you'd like them to steer clear of – or favor, for that matter – and they'll do their best to accommodate.
Though a spring purging may get you off to a good start, there is also the matter of the actual cleaning. Not to fear: You still need not get your hands dirty. Leave that to Philip Doyle's MaidPro franchise in Adams Morgan. Although perhaps more widely known for his gay Latin dance party, Fuego, your dirt may actually be Doyle's passion. Raised by no-nonsense, military parents, the man knows clean. And he can make certain your home knows it, too.
MaidPro generally works with contractual clients who establish an ongoing cleaning schedule, but Doyle insists that doesn't mean he's not fully prepared for the annual spring-cleaner. And a fantastic cleaning of a rather typical two-bedroom, two-bath home, would likely take about three hours for a cost of $129, he estimates.
Both time and cost are incredibly flexible, he adds, noting that MaidPro will customize a cleaning regimen for every client.
"We'll do it based on a client's priorities – what's going to make you happy," Doyle promises. "I've folded clothes for clients, done ironing…. We're not your typical cleaning company."
In other words: Why spend hours cleaning an oven or refrigerator belonging to an obsessive-compulsive bulimic, when that time may be better spent sterilizing the bathroom?
Regardless of what your home needs in terms of dusting, polishing, purging and prettying, now is the time. And with services just dying to do your dirty work for reasonable fees, those spring-cleaning protestations are all washed up.
For more information about Junk in the Trunk, visit them online at www.haulmyjunk.com, or call 877-JITT NOW. MaidPro is online at www.maidpro.com/adamsmorgan, or call 202-986-3510.