VIRGIN RETURNS TO BALTIMORE… The U.S. edition of the celebrated British Virgin Festival will once again take place on a hot midsummer weekend at Baltimore's Pimlico Race Course. Organizers have just announced the full lineup for the Virgin Mobile Festival, including the DJ-centered acts in the dance tent. The headliners for the event, set for Aug. 9 and 10, are pretty ho-hum — and excepting for Bob Dylan and Chuck Berry, they're not exclusive to the festival. From Jack Johnson to Kanye West to Nine Inch Nails to Iggy Pop, most are making stops at other major festivals in the states.
The Dap-Kings will return to Virgin this year, after doing their best to engage a rather preoccupied Amy Winehouse last. This time, the Brooklyn-based funk/soul band will support their original frontwoman, the fantastic singer Sharon Jones. Filling in for Winehouse as this year's up-and-coming British female soul-stirrer: Duffy, whose debut album drops stateside in a couple weeks. Among the dozens of other acts at Virgin, there's also Bloc Party, a British indie-rock band that sounds like a less grand, more arty/bratty U2 or Coldplay. Bloc Party's frontman Kele Okereke is ambiguously bisexual, having last year told the British newspaper The Guardian that his sexuality "isn't clear cut." Virgin tickets go on sale this Saturday, May 3, and start at $97.50 for one day. For more information, visit virginmobilefestival.com…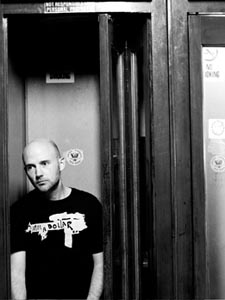 Moby
DOING THE VIRGIN DANCE… The two-day Virgin Festival is frontloaded with Saturday as the better day to go, especially if you plan to camp out in the dance tent. Day two, however, brings this year's headlining DJ — none other than Moby. Yes, the same man born Richard Melville Hall most famous for his blues- and gospel-sampled techno tracks. Last fall, Moby christened the new Friday night home at Fur Nightclub for D.C.'s own Buzzlife Productions, an event that helped propel Moby's own secondary career as a DJ. He's far better at it than you would expect, and considering his middling artistic output over the past few years, including his new album Last Night, perhaps he should focus full-time on DJing. Why hasn't he released a true-to-form mixed compilation yet?
The Virgin Festival is so far the only festival Moby will play in the U.S. Preceding Moby on day two is Dutch DJ Armin Van Buuren, who last year overtook his fellow compatriot Tiesto and the German Paul van Dyk in ranking as the world's best DJ in the respected DJ Mag poll. Van Buuren's trance-driven sound is a bit more abstract and melody-free than those weaned on and keen to gay-popular, high-energy house are used to. Same goes for many of the others in this year's dance tent, from buzzed-about newcomer Deadmau5 spinning after Moby on day two, to day one's Ferry Corsten, yet another popular Dutchman. One-time tribal DJ Steve Lawler will close out the first day, hopefully with a bit more energy and consistency than he brought to the 9:30 Club last summer. Ultimately, besides Moby, the highlights are day one's Underworld and Soulwax. Underworld has created several full-throttle dance jams this decade, including "Born Slippy" and "Two Months Off," with the familiar refrain "You Bring Light In…" Soulwax is the dance-rock duo of David and Stephen Dewaele. Best known by the alias 2 Many DJs, the Belgian brothers a few years ago helped popularize the fun sub-genre of musical mashups. And they've still got it: Check out their rework of the Rolling Stones' "You Can't Always Get What You Want" up at www.myspace.com/soulwax….
TENAGLIA'S TOUR TO THE FUTURE… Probably the biggest thrill from last year's Virgin Festival was the rare chance to hear house legend Danny Tenaglia spin. He's not scheduled at the festival this year, but fortunately you'll likely hear him there, as everywhere. A full decade since his last all-original artist album, Tourism, Tenaglia is set to release Futurism on Tommy Boy in August. New single "The Space Dance" will be released this month, named for famed Spanish nightclub Space Ibiza, where he'll inaugurate a weekly event in July. Tenaglia's music is the answer, indeed….
TRACKING TREASURE APART… You also won't find the DJ duo Gabriel and Dresden on the lineup at Virgin, or anywhere else. Just prior to winning a respected award as Best American DJ in late March, the duo of Josh Gabriel and Dave Dresden announced they were separating. The two created several classic remixes in some seven years together, including the 2003 trance gem "As the Rush Comes," recorded as the group Motorcycle featuring vocalist Jes. Both will DJ solo from now on. Gabriel will also release a solo artist album later in the year, on which he'll sing, while Dresden is working with other producers, including gay-popular Chris Cox, with whom he's just released a new rock-laced club anthem, "Whole Wide World."
As with any long-term partnership, the two can't go their separate ways just like that: In the works since last December is a full artist album as part of Andain, a group including vocalist Mavie Marcos and guitarist David Penner responsible for another trance classic, 2003's "Beautiful Things." Andain's album is expected for release by summer….