"A star is born," Oprah Winfrey declared after Lewis performed "Bleeding Love" on her show last month, immediately recommending that viewers buy the single. Whatever Oprah says, legions do: The song became the first No. 1 hit on the main Billboard singles chart by a British female singer in two decades. (Kim Carnes did it last in 1987 with "You Keep Me Hanging On.")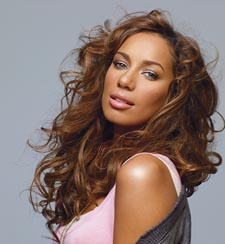 Simon Says: Leona Lewis
(Photo by Randall Slavin)
Leona Lewis has had American Idol's Simon Cowell cooing in her ear for some two years, telling her how great she is, how she's the next Mariah Carey, how with his help she can conquer the world. Sure enough, she's succeeding in the plan, laid out for her when she won the Idol-esque British reality show X-Factor in 2006, with Cowell as her mentor.
Cowell not only enlisted Winfrey in his plan. He also signed up American pop Svengali Clive Davis. Davis is the longtime label executive responsible for discovering Whitney Houston and Alicia Keys, to name just two. At Cowell's urging, Davis signed Lewis to his J Records, and then lead the all-star production work to create her debut album.
But the no-expense-spared nature of creating and promoting this artist and especially this album is ultimately the most remarkable thing about the whole affair. The music itself? Not so much. Not only does Spirit too often sound like a decade-old album, it too often sounds like a decade-old album that Carey left behind, realizing it sounded too much like her past output. (Even she has her limits.) Though Lewis, 23, sounds great and certainly has great potential, Spirit is just too derivative and too predictable to inspire much cheering. This overproduced album fails at the one thing it needed to do most: fully harness Lewis' talent, tying it to material as great as her voice.
"Bleeding Love" is one exception, an appealing song, wrought with appropriately heavy feeling as Lewis sings about extraordinary love healing ordinary hurt. And this album opener is immediately followed by "Better in Time," another exceptionally strong song, this one the reverse of the last. It's about getting over the lover she seemingly just bled for. "It's gonna hurt when it heals too/It'll all get better in time," she sings.
The only song on which Lewis shares writing credit is "Here I Am," an almost note-for-note rework of Carey's "Hero," co-written by that hit's co-writer himself, Walter Afanasieff. "If you need a place where you can run, if you need a shoulder to cry on," Lewis cries — to which you want to shout, "A hero lies in you" — though this time around, it's even less profound: "I'll always be your friend."
Cowell himself shares writing credit on another song, "Footprints in the Sand," which sounds exactly like the over-the-top type of song each year's Idol performs upon winning the title. Cue the choir, pluck the heartstrings — this is Lewis' now!
Advertisement

| | | |
| --- | --- | --- |
| Leona Lewis | Sara Bareilles: Little Voice | Lizz Wright: The Orchard |
While the world swoons to Lewis' croons, Lizz Wright is the kind of singer we should hear more of, but don't. Wright, 28, is a blues-fired R&B singer with a countrified bent and a gospel and jazz background. She sometimes powers her smoky contralto to its full-throttle peak or its highest height. But unlike Lewis and her pop predecessors, the point is never to showboat. The point is always to convey whatever emotions she's singing about — the message — then taking leave before your mind drifts to just how skillfully the message was delivered — the messenger. Wright will knock you out with lyrical power, stun you with beautiful, elegantly crafted melodies, shock you with vocal subtlety.
The Orchard is Wright's third album in less than five years of recording. In addition to eight originals, Wright offers revelatory interpretations of songs made famous by blues-influenced artists including Ike and Tina Turner and Led Zeppelin. Particularly noteworthy is her cover of Patsy Cline's "Strange." Wright slows down the tempo to a contemplative crawl, chewing over sentiments about how she never stopped loving someone who's loving someone new. In Wright's hands, the country classic becomes a little piece of haunting blues perfection.
The album itself is an homage of sorts to the New York-based Wright's roots in Georgia's fertile countryside, where not just the fruit is sticky. And it gets better as it goes, as if the fruit were ripening with the songs. Wright worked most closely on the album with lesbian Toshi Reagon, another New York-based, Georgia-born, blues-stamped singer/songwriter — and also daughter to the founder of D.C.'s celebrated gospel group Sweet Honey in the Rock. With Reagon, Wright creates several aching odes to life and love. On "Leave Me Standing Alone," for instance, Wright sings to a lover who doesn't want her to leave, "Go take your road, the one you know/And don't worry about me, or the way I go."
Wright may want to be left standing alone, to paraphrase this bluesy, ballsy rocker, but you'll be left wanting more. Any fan of Jill Scott, Angie Stone, even Melissa Etheridge or (early) k.d. lang, will find great pleasure lingering in Wright's orchard.
From YouTube: Leona Lewis: Bleeding Love
From YouTube: Llizz Wright: My Heart