Mark Lee knows how to make an impression.
There was the success of his first Sunday night party in Adams Morgan during the late 1980s. Then his Atlas parties became an indispensable part of any holiday weekend.
Then there was Lizard Lounge, the Sunday night mainstay that charted out new gay territory on 14th Street — making the neighborhood a cool spot years before the rise of condos and specialty stores. Lizard's growth and popularity led to a couple of venue changes, finally landing downtown on Connecticut Avenue.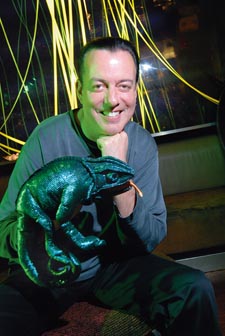 Mark Lee
At the same time, Lee was making just as big a political impression as an impassioned promoter and defender of nightlife businesses, advocating against undue regulation and overly burdensome operating agreements thrust upon bars and clubs by small neighborhood groups.
But his battle against the D.C. smoking ban gained him his greatest prominence — some would say notoriety — as a nightlife advocate. And when that battle was lost as the city passed and implemented the ban on smoking in bars and clubs, Lee announced that Lizard Lounge would be no more.
Two years later, the nightlife landscape has seen significant change — a number of new ventures have opened, while others have closed their doors for good.
Time, it would seem, for the return of the Lizard Lounge.
Just as it did in the past, Lizard Lounge will take its perch on Sunday nights — this time at Lima, an already popular nightclub located at 14th and K Streets downtown — beginning with a re-opening party on May 4.
What's changed at Lizard Lounge? Why return now?
Those are answers Mark Lee is happy to give you.
METRO WEEKLY: When we last interviewed, about the closing of Lizard Lounge, you said, "This is the end," that you wouldn't be able to sustain the economic impact of the city's smoking ban. So what's changed in the two years since we last talked about Lizard Lounge?
MARK LEE: In many ways, I think our mothers were right: You don't really miss something until you don't have it anymore. And for me, it's something I certainly miss. Somewhat to my astonishment and to my great appreciation, I think it's something that a lot of people in the community really miss. So the opportunity to re-engage is not something I sought out, really — it's actually something that has literally happened in the last month.
When Lizard Lounge launched in the summer of 1998, a lot of people thought I had lost my mind moving over to 14th St. at 11th Hour. [11th Hour operator] Massoud and I had known each other as colleagues and acquaintances over the years, and he had invited me to consider doing Sunday night there — that was how Lizard Lounge started.
Massoud is now the sole owner of Lima, and he contacted me recently. It was something that was really unanticipated on my part in some ways. But it's a great opportunity — [and] it's a unique venue in that it's the right size at the right place at the right time.
My great fortune has been for the whole 20 years that I've been doing this, I've had the great luck to be standing in the right place at the right time and it felt good to do this. It also has the unique opportunity to continue to offer as broad a range of hospitality and accommodation to all of our guests as we possibly can because: Lima has an alcohol license, smoking is permitted [in the] very plush and comfortable lounge area. And that makes it possible to continue not only to treat all of our guests with respect and offer their level of accommodation and hospitality, which I think has become our signature over the years.
MW: Given your high profile in fighting the D.C. smoking ban and working on nightlife issues such as the involvement of advisory neighborhood commissions (ANCs), are you afraid that your political work may drive a wedge between you and potential customers?
LEE: Absolutely not. First, the notion that people are obsessed about dictating or governing other peoples' personal preferences has never been a popular notion in our community. In many ways, that's why so many people in our community, and certainly among the patrons of nightlife establishments, were not in support of a mandatory smoking ban, whether they smoked or didn't smoke.
Secondly, let's call it for what it is. I think that most people understand that this is a prohibition campaign by very well funded special interest groups whose goal is not to protect people from keeling over dead while having a drink, but to attempt to make it practically impossible and socially unacceptable to smoke. The people who go out and are our guests and our patrons, and in many ways the public at large, they understand that. And they're not worried about the exaggerated claims of health peril of second-hand smoke. I think people understand that it's forced social engineering and that's never been something that our community has embraced and for good reason.
MW: How is the smoking lounge at Lima going to work?
LEE: It's a climate-controlled outdoor lounge area, and it has the distinction of having lounge seating, plush sort of comfortable lounge seating. It's not necessary to leave the premises to go to the outdoor lounge. Because it's really about the comfort and enjoyment of our guests. And our goal is to offer as civilized an environment as we can to our valued patrons in what has, unfortunately, become a rather uncivilized world.
MW: Lizard Lounge was a big Sunday night staple for years, but there have been a lot of changes in nightlife venues and options over the past couple of years. Is that something you're concerned about as you re-start Lizard?
LEE: I'm excited and delighted to have the opportunity to renew my commitment to making a contribution to the social life of our community. I've been a special event and nightclub producer for 20 years — my first event was on Dec. 6, 1987, at the former Dakota nightclub in Adams Morgan. Before that I was a consumer, when I moved here to Washington as a young child. [Laughs.] I always remember what it's like to be a consumer and so I always take it from that point of view.
Now there are fewer venues than ever before, accommodating fewer people than ever before. There are a lot of reasons for that. If you talk to people on the street, the number one off-the-cuff response will be the Internet, that it's the iPod culture where we're more isolated. Or that we're in a serious town like Washington where we work hard, to the extent that we don't necessarily always have the chance to play hard.
In our business, things are changing all the time. We're a more diverse population, we're more spread out geographically, we have less time to enjoy ourselves in many ways, especially in this economy and in this town. But high among the reasons that there has been a decline in patronage and a loss of revenue [for nightlife businesses] is because of the mandatory smoking ban.
It's a tough town to do business in. Sometimes it feels like the members of the D.C. Council lay awake at night dreaming up new schemes or new ways to over-burden, over-regulate, over-tax and do us in. There's sort of an odd taking-for-granted of the contribution, not only to the social life and the cultural identity of the city, but to the tax base. The hospitality industry in its entirety is the largest taxpayer to the city's coffers, accounting for about 17 or 18 percent of the total local taxes that the city collects. We helped to finance the convention center through a special tax, which the industry gladly agreed to.
But it's tough running a small business in the nightlife or hospitality segment in this town because we're disrespected and disregarded a lot. We're thrown out on the street in Southeast where they built the new stadium and the Council turns its back on its commitment to realistically assist or make possible those businesses to relocate. They give a lot of lip service to appreciating and supporting the golden goose of this town but yet at the same time we face displacement. Small bands of nightlife opponents are able to delay or prevent licensing easily for 18 months, or to restrict the operation or hours in such a way that businesses can't be successful. It's always said that nightlife opponents and small neighborhood groups only get angry when a business is successful.
MW: Is the location of Lima downtown and away from residential areas something that's attractive to you?
LEE: It wasn't the reason that we went there, but it's certainly a benefit. It's a convenient location. It's just below Logan Circle, near Thomas Circle. It's sort of an easy walk from a shifting location of our community's population. There's lots of available on-street parking on Sundays. It's a convenient central location where people know how to get there and can get there easily.
MW: When people go to Lizard Lounge, are they going to think, "I'm back at Lizard Lounge and it's bringing back what we miss about the first one"? Or are they going to say, "Oh, this is a different Lizard Lounge"?
LEE: What's exciting about it for me is that resident DJ Kostas will be returning as the primary DJ, and local DJ Luke Easley, who had played a couple of times for Lizard Lounge in the past, will be sharing the performance schedule in a limited way. Kostas has been a source of inspiration both personally and musically, and he is justifiably well appreciated by our patrons and the community for the product he produces.
Will it be the same? Well, we've set the stage for it to be the same in the ways that we think that people have always loved and appreciated. I have to tell you that since we closed, people have always been very encouraging for me to find a way that we could accommodate our full range of guests and re-open because people really missed it and appreciated it. That's very humbling and I'm very grateful for that. And even since the announcement that we are going to re-open, it's been overwhelming, the outpouring of enthusiasm and positive feedback that we've gotten.
But really, at Lizard Lounge we set the stage. We try to create a place where everybody feels comfortable and can relax. One of our distinguishing characteristics was that it was one of the few places in Washington where a lot of different types of people in our community could come together. In a way, I think it was giving people permission to socialize together and that's something we've been very proud of. So all of that will stay the same.
But the character of Lizard Lounge is also largely what our guests bring to it. You can dance, you can lounge, you can do pretty much whatever you want, including smoking, so the experience you have at Lizard Lounge — I think that this has always been true — is what you want your experience at Lizard Lounge to be. And at the same time, everybody who is there makes a contribution to the ambiance and collegiality of the experience.
MW: I have to ask — do you ever plan to stop smoking yourself?
LEE: There are two misconceptions I think that some people have about that. First, my advocacy against a mandatory smoking ban was not for my personal convenience. It was for other reasons. I think most people understand that. Second, I also have no investment in whether people smoke or not. I don't benefit from it. I'm not promoting smoking. I certainly want to be clear about that.
So I really think in that context it's not an issue. Whether I choose to smoke or not, or whether I still smoke or not. How do you know whether I do or not? It's an assumption on your part that I still do.
MW: Do you?
LEE: I was trying to get a little mysterious to give a close to that.
MW: It would be funnier if I asked if you have one on you.
LEE: [Laughs.] I don't mind the question, but really, my position on the smoking ban in the past was not informed by whether I smoked or not. It was about a larger issue. I think the marketplace was evolving according to preferences and there are mixed opportunities on both sides for serving guests. And there should be options and choices. Unfortunately, options and choices have been taken away and as that trickles down to the effect it has on businesses, it hurts.
Having said that, I want people to understand that I didn't walk away in a huff, I didn't walk away mad when we lost. It really was a genuine business decision based on the fact that the gay and lesbian community smokes at nearly double the rate of the general adult population, [so the ban] is going to have a bigger impact on us. It's a complicated issue in how it impacts businesses, but it impacts businesses in our community quite strongly and for small business establishments it has a greater impact. So it has had an impact.
But at the same time as saying all that, I don't want to continue to debate this. The really refreshing thing and the feedback I'm getting is that people are just plain excited that Lizard Lounge is re-opening and they're looking forward to it. So that battle is over. We're really excited about doing something that we love, and that I've had the great privilege of offering our community for a long period of time. You know, it's a tough town sometimes to have fun in, and we're eager to get back out and make a contribution so that people can enjoy their life in Washington.
Lizard Lounge will be open Sunday evenings beginning at 8 p.m. at Lima, 1401 K St. NW. (Re)Opening night is Sunday, May 4. For more information visit www.atlasevents.com or call 202-331-4422.