In August 2007, D.C. announced the firing of three corrections officers for wrongfully placing a transgender inmate, who had female genitalia, in a male jail facility — ignoring her pleas to be moved throughout her two-day stay. Transgender activist Ruby Corado was one of many at the time advocating for a change in booking procedures.
"There's really no guidelines that are in place on how to deal with transgender individuals," Corado, a member of the D.C. Trans Coalition, said at the time. "And the bigger [issue] is people are arrested, booked, and then… housed in the wrong section of the jails [where] they just get victimized over and over again."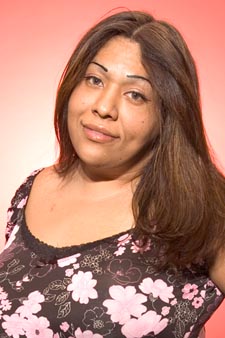 Ruby Corado
With that in mind, Corado was not surprised to find herself in a male facility after a March 1 arrest for "simple assault," which she says was the end result of an argument with her boyfriend.
And though she preferred not to, Corado says sharing a jail cell with several men overnight was something she could handle. But it was what happened upon entry that has pushed the 37-year-old D.C. resident to consider legal action against the city's Department of Corrections.
"The marshal kept saying, 'What do we have under here?' because I have big breasts," Corado says, "and… then he strip searched me in this little room where they put a bunch of guys — where you're basically at their mercy."
Corado says she was also asked to urinate in a cup, standing up, again in front of everyone else.
"We have fought very hard to make discrimination against LGBT people illegal, but it's very clear that this was intimidation," she says. "It really wouldn't take more than a second to take me to a room where there isn't [several] inmates looking at me get strip searched."
Once she was released from confinement — she and her boyfriend each declined to press charges against the other, thereby ending the matter — Corado says it was not hard to find more than 20 other local transgender women who had suffered similar experiences, to join her effort.
"I have about 20 girls and we are searching for lawyers to represent us, and we're going to file a class-action suit," Corado says. "There is no reason why this should be going on." The group is currently seeking pro bono attorneys for representation and is considering approaching the local chapter of the American Civil Liberties Union (ACLU).
Though he could not comment specifically on Corado's case, Fritz Mulhauser, a staff attorney at the ACLU of the National Capital Area, a local affiliate of the national organization, says he advises anyone who feels the government has infringed a basic right to contact the organization and hinted that Corado may have a case.
"Problems with police and jails are a longstanding part of ACLU work here and everywhere," Mulhauser says. "We've been involved in suits over medical care, illegal strip searches, and other bad treatment of those locked up in D.C. Jail. And we have represented people challenging many different kinds of unconstitutional treatment by police."
The ACLU offers trained telephone counselors and staff attorneys on duty to steer callers in the right direction, though representation is not a guarantee, Mulhauser warns.
"The Fourth Amendment … protects us all against unreasonable search and seizure and those four glorious words are among the greatest foundations of liberty," he adds.
The prospective class action lawsuit is not about money, says Jeri Hughes, a local resident who is also a member of D.C. Trans Coalition.
"These women want to be afforded dignity," she says. "If the [DOC] is willing to institute the proper policies and provide these women with dignity, I believe legal action will be avoided. If they don't, you can be fairly certain that it will [not be avoided]."
According to Hughes, the DOC has on more than one occasion violated Chapter 8 Title 4 of D.C. Municipal Regulations, entitled "Compliance Rules and Regulations Regarding Gender Identity or Expression."
Under "Gender-Specific Facilities Where Nudity in the Presence of Others is Customary," the regulation proclaims, "entities covered by the Act shall make reasonable accommodations to allow an individual access to and the use of the facility that is consistent with that individual's gender identity or expression, regardless of whether the individual has provided identification or other documentation of their gender identity or expression."
Hughes, and two other members of D.C. Trans Coalition, met with representatives of the DOC on Wednesday, March 19.
"Essentially, we made demands that they comply with the law, and we also offered suggestions on ways they could do that," Hughes says, regarding topics such as strip searches, similar to Corado's experience.
"These are women with double-D [breasts], fully formed females… and they're made to disrobe in front of men. It's degrading, and it has to stop."
Hughes says representatives from the DOC were "pretty regimented as far as they did not want to change."
"Essentially the reason that the director gave was that, that's how they do it, and they don't have the resources to do it otherwise."
Maria Amado, one of the DOC representatives present at the meeting, said she could not speak on behalf of the DOC, and directed all questions to Christopher Dyer, the Director for the Office of Gay, Lesbian, Bisexual and Transgender Affairs.
Dyer was also present during Wednesday's meeting, what he describes as the first "formal meeting" between the group and the DOC.
"The issues that [members of the D.C. Trans Coalition] raise are complicated and it is going to be a process that we're engaging in, that hopefully we'll be able to continue to collaborate and work with them in order to address their concerns," Dyer says, adding that the next meeting hasn't been scheduled but is expected in the "next couple of months.
"It's my understanding that there are no current jurisdictions [or] prisons in the country that have a policy and we're trying to work with the [DOC] to come up with [one]. It's my hope that we can do that and continue this process."
Dyer could not offer a comment regarding Corado's lawsuit.
"Treatment of trans individuals by D.C. police and our jail [system] is a continuing issue," says Mulhauser, citing access to hormone therapy, access to visitation, and sexual assault inside the facility.
"The law in D.C. prohibits discrimination against transgender persons, so that's a very good starting point, unlike in many other parts of the country."
The ACLU-National Capital Area can be reached at 202-457-0800. For details on the class action lawsuit, contact Ruby Corado at RubyLatinaDC@yahoo.com.