Yes, pride season is once again upon us, with Youth Pride, Black Pride and Capital Pride. And the local Asian/Pacific Islander GLBT community has got plenty of pride of its own with the ninth annual Asian Pride and Heritage celebration.
This Saturday, May 10, Pride and Heritage will celebrate with a reception honoring Trang Duong, Joseph Truong, South Asian Americans Leading Together (SAALT) and Metro Weekly for work empowering the local A/PI GLBT community. Ninad Jog of KhushDC, Linh Hoang of Asian/Pacific Islander Queers United for Action (AQUA) and Hyacinth Alvaran of Asian/Pacific Islander Queer Sisters (APIQS) — all Pride and Heritage members organizations — will also be recognized as emerging leaders in the community.
May also marks the annual Washington, D.C., Dragon Boat Festival along the Georgetown waterfront. While not a gay event, this will be the third year that AQUA has been involved in this mainstream competition borrowed from Chinese antiquity, raising the profile of the A/PI GLBT community.
For more information about D.C. Pride and Heritage or its member organizations, visit www.dcprideandheritage.org. Tickets to the May 10 reception, running from 6 to 9 p.m., are $15, or $25 for two, and may be purchased online. Apex is located at 1415 22nd St. NW.
2008 D.C. Pride & Heritage Honorees South Asian Americans Leading Together (SAALT)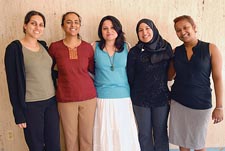 SAALT
If you ask Deepa Iyer to characterize the issues of GLBT South Asians, relative to the broader South Asian community, which includes those whose roots are in India, Pakistan, Bangladesh, Sri Lanka, Nepal or Bhutan, her answer is simple: "Invisible."
Iyer, 35, who is straight, is the executive director of the South Asian Americans Leading Together (SAALT), a national non-profit organization based in Takoma Park, Md., working to strengthen South Asian communities around the United States by providing civil- and immigrant-rights advocacy and policy analysis.
"We hope that through our existence and through some of the work that we do, that we're making a small contribution to ensuring that the LGBTIQ community of South Asians don't feel like they are being marginalized, or don't feel like they're invisible in the broader South Asian community," Iyer says.
That work, which often includes collaborations with GLBT organizations such as KhushDC, involves monitoring policies that may have an impact on South Asian gays, regarding topics like immigration and hate crimes.
Iyer, who is an emigrant from India, came to the United States when she was 12 years old. She started volunteering for SAALT in 2000, taking on the role of executive director in 2004.
"For me, a lot of the issues that affected my family or the community of immigrants that I grew up with, were really important for me to address and highlight. These were either lack of access to information or services, discrimination and bias — immigrant-rights issues."
Iyer's background contributes to her very personal perspective on SAALT's struggle toward equality for South Asians in America.
"If you were to ask what our bread and butter is, it's education and advocacy. We want to educate folks in the community around the country about some of the policies that might be affecting them."
But it's not just about education — it's also about taking the next step to action.
"Then we advocate with policy makers to make sure that they're passing or enacting legislation that will assist people who are immigrants… including those who are South Asian."
Joseph Truong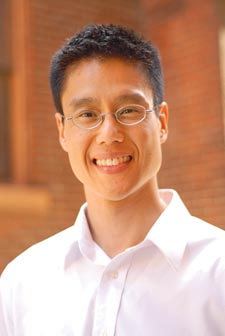 Joseph Truong
Joseph Truong has been passionate about human-rights advocacy since his early youth.
"A lot of it [comes] from my personal experience, growing up as gay and Asian in Manchester, Pa.," he says.
The son of Vietnamese immigrants, Truong, 31, says he witnessed racism and "a lot of very strong anti-immigrant sentiment" from an early age.
"That sort of made me realize that while [America] is a great country, there's a lot of territory that is uncharted. There are a lot of things to deal with still."
Truong says it became important for him to see people treated with dignity partly because his father, who had earned an architecture degree in France, worked as a janitor at Truong's elementary school.
"People would see him and think he was just a janitor, not realizing that he had done so much in his life. That was how the cards fell and he did the best he could with what he had."
Truong made the most of his own cards, moving to Washington six years ago and working for the National Youth Advocacy Coalition (NYAC). He moved on to the D.C. Men of Asia Prevention Study (DC-MAPS) at Georgetown University, and finally to Management Systems International, where he currently works as a project officer.
He volunteered as chair of the local Asian/Pacific Islander Queers United for Action (AQUA), of which he is still a member. He's also advocated for more collaboration between different Asian organizations. Those efforts resulted in the formation of the annual Pride and Heritage celebration.
When he's not working, Truong volunteers for Los Angeles-based Liberty Hill Foundation, traveling across the United States interviewing young gay activists who are finalists for the grassroots foundation's grants toward fighting poverty and injustice.
"It's been really fascinating, because everywhere I go I have a chance to see what the [GLBT Asian/Pacific Islander] community is like… I actually really enjoy it," he says.
Truong also has a chance to come face to face with those who are touched by his advocacy. A couple years earlier, Truong had done and interview with a New York gay newspaper about the discrimination encountered by GLBT Asian and Pacific Islanders, illustrating his point by recounting how he was always carded when in New York while his non-Asian friends were not.
Later, on a trip to Jacksonville, Fla., he found the story had a broader impact than expected.
"One of the activists at the organization I was visiting had actually seen [that article] in his local LGBT paper, and clipped it out and hung it on his wall. He'd always experienced that, but because he has so few Asians to relate that with … he was so excited to meet me and talk about his experiences."
While D.C. offers a handful of organizations for the gay A/PI community, Truong says there is always room for improvement as discrimination is still evident in the city.
He tells, for example, the story from a recent AQUA night out at a Washington club. Another member overheard the telling line aimed their way: "Where are we? Korea?"
"That's the stuff that's happening, and that's the reason why I'm really appreciative of the groups that work with Pride and Heritage," Truong says. "Because that's the sort of stuff we need to raise awareness about. It's not cool in this day and age to see an Asian and think 'foreign country."'
Trang Duong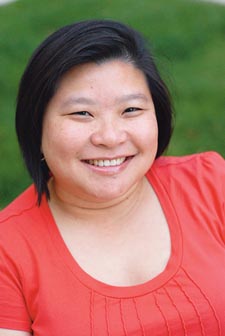 Trang Duong
Don't expect Trang Duong to be as heavily involved with Asian Pacific Islander Queer Sisters (APIQS) and Pride and Heritage in the year to come. Duong, 38, is three months pregnant.
"I probably will be less involved, because my partner, Kim, and I are working on building a family of a different sort," says the Vietnam native who came to the states with her family when she was 5.
"It's exciting because I feel like our vision is kind of changing a little bit, but it's nice to have had that cushion and to know that we've had that support from the Asian/Pacific Islander community."
Duong, raised primarily in California, has played an active role within the Asian community in D.C. since moving here in 2002 from Anchorage, where she had lived for nine years. She's the co-chair of APIQS, and for the past two years has helped organize May's Pride and Heritage event. This year, as an honoree, she did not take part in the planning.
"It's really wonderful to be recognized by your peers, because these are other folks and leaders within the A/PI community who are recognizing my contributions and leadership within our community."
For those unfamiliar with Pride and Heritage, Duong says the best way to describe the coalition is the coming together of two worlds.
"It's basically an effort for us to celebrate the duality of us being of Asian/Pacific Islander heritage. May is A/PI heritage month, and June is [gay] Pride, so it was like a mixture of those two. To celebrate not only our heritage as Asian/Pacific Islander, but also our pride in being gay, lesbian, bi or trans."
Duong says she's grateful to be living in Washington and hopes others take advantage of the city's thriving community.
"There's a gay and lesbian community in Anchorage, but it's a lot smaller than here. It was so small that people would refer to me as the 'Asian dyke.' I think it's important to recognize that we have great resources here, and great role models too."
As a future mom, Duong hopes to be a good role model for others.
"A stereotype is that gays and lesbians don't make good parents. That's totally false, because for most of us who haven't had children from straight relationships, we have to do a little extra work to get to the parenthood path than the traditional man-woman couple.
"I just knew that I would regret it if I didn't try to be a parent."