It's a rainy Friday afternoon, and Cathy McElrath Renna is sitting on the floor — the chairs have yet to arrive — of what will soon be the new headquarters of Renna Communications, relocating from New York to D.C. It's a family business, a "mom and mom shop" so to speak, with her wife, Leah McElrath Renna. Considering the two met hardly 50 feet away at the Dupont Circle Metro entrance after a Take Back the Night rally in 1989, Leah with a bullhorn, Cathy with a crush, their new office on Connecticut Avenue seems romantically fitting.
It's also good business. "I love it here, and we thought it would be an amazing place to raise our child. But in terms of business, I do think it makes sense to grow the office here. The reality is that D.C. is an epicenter — if not the epicenter — of LGBT activism."
Cathy McElrath Renna
And that's the heart of soul of Renna Communications. Technically a public relations firm, Renna emphasizes that activist angle.
"Not that there's anything wrong with people who sell toothpaste or cars, but that's not what we do. We promote issues. This is public-interest public relations."
It's a trade she's been plying for nearly 20 years, having joined a fledgling local chapter of the Gay & Lesbian Alliance Against Defamation (GLAAD) in the early 1990s, prior to her official hiring in 1995. With more than a decade at GLAAD, Renna found herself on the forefront of the GLBT-equality movement, from debunking the "gay-panic" defense in Wyoming after the murder of Matthew Shepard, to standing up to the Catholic Church's attempts to scapegoat gay priests for sexual abuse of children.
From press conferences to TV shows to radio, Renna has at times used her voice to speak for a movement. Considering her family's roots — both sides — it's no wonder she found her voice.
"My family is from a small town on the southeast coast of Italy called Conversano, which, of course, I say makes me 'Chatty Cathy.' Conversano, conversation…."
Fluent in both Italian and GLBT activism, raised in a family that questioned dogma and supported her, Renna took time out of the move back from New York to talk about her roots, past and present.
METRO WEEKLY: It sounds as though you were raised in a very Italian household, but only a mildly Catholic one.
CATHY RENNA: I did communion. I did my catechism, Sunday school. My mother has a twin who is far more devoted to the church, and she used to take us to mass on Sundays. But after my confirmation, weddings and funerals would be the extent I'd gone to Catholic church. We have a little different take on religion now, as a family. My partner and I actually had a religious ceremony.
MW: Which tradition?
RENNA: Leah's Episcopalian. And Steven Baines, who's a good friend here in Washington with the Church of Christ, did the ceremony for us. For us, what was important was not having it in a certain kind of church or a certain kind of anything. It was about having our family and our friends, people we care about, there. And making vows to each other in front of God. We could've done it on a street corner.
MW: Setting the stage for your marriage, in a sense, let's go back to your coming out.
RENNA: I came out in college. I was a sophomore at Adelphi University on Long Island. Let's just say my parents were not surprised, but that doesn't mean it was super easy for them. I think they were just waiting for the other shoe to drop. They accepted, loved and supported me, but there was also a lot of education that needed to happen, and it took some time.
At this point, the really wonderful thing is that my family is my whole family. My wife and my mom were in the bathroom freshening up after the [wedding] service. I was off doing something else — I don't "freshen up." [Laughs.] They had this really meaningful exchange that my wife told me about, with my mom saying, "There comes a time in your life when you find that person you want to spend the rest of your life with and you create family with them. And I know that Cathy will take really good care of you." And Leah said, "And I will take really good care of Cathy." I really believe we came full circle when my mother put our daughter in the family Bible. To me, that is significant. She sees Rosemary as her granddaughter as much as her other granddaughter. I'm not the biological mother. I questioned — even in my own mind — would she really fully embrace this child? She's gone way beyond that. She's been extraordinary.
MW: What's a family Bible?
RENNA: It's a Bible, and in front you put the family genealogy. When someone has a child, when someone dies, when someone gets married, that goes in there. That's how you keep track of your genealogy. It's a family heirloom. My mother's very organized.
MW: Did you have any trouble on a personal level coming to terms with being a lesbian?
RENNA: I think I'd always sensed I was different. I was always a tomboy. I had sort of a combination of both knowing that I was emotionally drawn to girls, and also gender atypicality that made it, I think, a little easier for me. Sometimes it's harder for girls who are inside the "femme-y" box.
I also had the extraordinary blessing of having two family members who were lesbians. We're Italian, so they got the title "aunts" because they went to college with my dad and uncle. They're not blood relatives, but they're my "aunts." They were a couple for as long as I can remember. It was really important to have people right there in front of me who were great role models who were wonderful people, part of the family.
MW: Were they at your wedding?
RENNA: Oh, yeah, absolutely. They were the first people I came out to. They were like, "No! Really? Shocking!" [Laughs.]
Yeah, they were there for my wedding. It was really amazing because I've had conversations with them where I said, "If it wasn't for you, I really don't think I would've grown up with the confidence, sense of self and self-esteem that I have. You've been role models to me."
Then they look at me and say, "You becoming an activist and doing the work you've done in the community," because they both had to be closeted with their jobs as teachers in the community for many years, "you're a role model for us." It's really kind of cool, how it goes full circle like that.
MW: That covers your lesbian roots. What about getting your start as an activist?
RENNA: I think Leah was really integral to my becoming an activist, because she's an activist, too. Instead of having the sort of lesbian "relationship death" where you isolate yourselves or just party all the time — and neither of us are real big drinkers or partiers — we went to a panel forum. It was about lesbian visibility in the media, which interested me. I've never been a "politics with a capital P" kind of person, but I've always liked culture, media.
So we went to this thing about "Lesbian Invisibility in the Media." I'll never forget that was the title. There was a woman on the panel with a young, new organization called GLAAD-National Capital Area. This is back when GLAAD had chapters. Her name was Ann Warner, and she was great. We accosted her after: "We want to volunteer! We want to help. We want to get involved." Thus began my journey of really being an activist.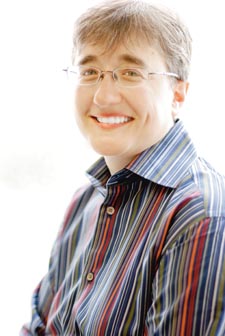 It was street activism, postcard campaigns. It was really direct, very challenging stuff. And GLAAD was very fledgling and small. I fell into a dream. It was something I loved immediately.
Once 1993 came around, we had the March on Washington here. GLAAD was just beginning to think about the whole process of merging and becoming a national organization. Our chapter was a really good chapter. New York and L.A. fought over some movie and whether it was good for the gay community. We're like, "We're worried about news." We were all about news and policy and politics.
MW: Not Basic Instinct?
RENNA: Actually, we did do Basic Instinct here. That was our first big protest. That was the first time I was on television. I found it both terrifying and exhilarating.
We had the protest at the theater — it's not there anymore — on Wisconsin Avenue across from Fox. We had about a hundred people there. We had a combination: Queer Nation people chanting, screaming, "Catherine did it! We all know it!" They were giving away the end of the movie. We had a group called Church Ladies for Choice whom I gave a copy of the script to, and they were acting out the script in drag. [Laughs.] It was hilarious. So, Basic Instinct….
MW: Got you on TV?
RENNA: Yes. It was big news. It was what really helped put GLAAD on the map. It was the first big national campaign GLAAD did. After that, you just had a string of things happen with people coming to us more. Like the Tinky Winky thing. No joke. I have a file about two inches fat about Tinky Winky. Thank you, Rev. Falwell, may you rest in peace.
Back then, those were the kinds of things that were national news for days and days. And then, after Tinky Winky, there was Ellen [DeGeneres]. Never forget Ellen coming out. I have to say, it was one of the most exciting, fun, gratifying experiences in my activist career and one of the few that was positive, not a reaction to a negative event, like a hate crime.
There was one station, in Birmingham, Ala., an ABC affiliate, ABC 33/40, I'll never forget. They're never going to live it down. They were the only ABC affiliate in the country that refused to air the Ellen coming-out episode. I flew my butt down to Birmingham, Ala. I'd never been that far south. We filled an auditorium with over 3,000 people who paid $5 to watch Ellen come out via satellite — off of WJLA from Washington! And it was one of the most exhilarating experiences of my life.
That's the kind of stuff that really started to give GLAAD and me the reputation that "We will be there." We will come, we will help, we will roll up our sleeves. We will be on the ground with you and we will get through these things together. That was a really exciting time for me.
But the chronology is that 1998 was Matthew Shepard. I was living in D.C., [and I was] at a Family Research Council press conference that morning. They were debuting television versions of "ex-gay" ads — notice they never got on the air. I came back to the office to reports of this young boy who'd been beaten, left to die, tied to a fence — just horrific — and started to get dozens, hundreds of e-mails and calls from people all around the country.
Then I got a call from Jim Osborn, the president of the gay and lesbian student group at the University of Wyoming. When I talked to him, I asked, "What can I do?" He said, "You can get on a fucking plane, that's what you can do."
That was my first trip to Laramie, but I went back for the trials. I've worked with [Matthew Shepard's] family ever since. It was the same year my dad died. It was a really hard year for me, 1998. But it was a life-transforming experience to be at the center of that. It really gave you a palpable sense of how you could really make a difference.
Standing in front of that courtroom when they pulled out the "gay panic" defense for [James] McKinney, and talking to reporter after reporter after reporter and saying, "If straight women did to straight men what those boys did to Matthew every time someone hit on them, there would be no straight men in the world." Think about the double standard. They say, "No, thank you," and they move away. Whether it happened or not, this is no justification for what happened to Matthew Shepard. And to know that in that half an hour-hour period of just standing out there, I was able to really reframe the debate. We don't see the "gay panic" defense much anymore, do we? That's gratifying, to know that you're part of that.
MW: As part of that, you were also part of GLAAD, then Fenton Communications. Now you have your own company. Was that always the goal, or did it just click one day: "I could be doing this myself?"
RENNA: That's a really good question. After doing a number of big campaigns at GLAAD — Michael Savage, getting his nasty, homophobic butt off of MSNBC; Dr. Laura; Eminem; the Catholic Church abuse scandal — those were huge things. Also, my life was changing. We were thinking about having kids, I wanted to travel less, settle down. And also, I felt like I really wanted to take an opportunity to work on a more diverse array of issues, progressive issues. At my core, I'm a progressive, politically. Of course LGBT issues are nearest and dearest to my heart, but I felt, maybe it's time for me to move on and expand.
The opportunity at Fenton happened, and it was really extraordinary being there. I worked with MoveOn. I worked with Wangari Maathai, the first African woman to win the Noble Peace Prize. It was like being Madonna's publicist, only better. She's extraordinary.
What I realized quickly was that I could bring in the LGBT clients. We brought in a number of clients — the Point Foundation, not even on the map when they came to me, and ended up on the cover of Time Magazine and on Oprah. What I started to realize was that the kind of organizations I really enjoy working with, the kind of people I enjoy working with, and the ways in which people do their work — the ways that I value — they were not going to be able to afford Fenton. Fenton's a big company. It's 50 people plus three offices.
And despite the fact that we had a 6-month-old daughter — although you could argue we weren't getting much sleep anyway — we made the decision as a family to start this firm. That's huge. That's a big part of this story that people may or may not understand. When people think of GLAAD they think of me. When people think of Renna Communications, they think of me. But the reality is I wouldn't be sitting here, wouldn't be able to do any of this, if it hadn't been for my wife.
She's the only person I would trust with something this important to me, like my career, my livelihood. And she has a really good financial mind. She also really understands the issues. She's an activist. She's an incredibly intelligent woman, particularly around family issues, religion issues.
She knows her stuff, whether it was getting us incorporated, or whether it was making sure we had office space, good contracts [or] good negotiating fees. I think people know me well enough to know that I would do this for free. She knows that that doesn't get food on the table, so she made sure that we set up a really strong business model. And she also contributes tremendously, for example, when we're working on issues with the Family Equality Council or even when I was with GLAAD when we did the Catholic Church abuse scandal. She has a very, very high knowledge base, an expertise on child-abuse issues. She worked for Child Protective Services here in Washington in the late '80s, which was no picnic for her. She's kind of the éminence grise, as they say.
MW: Éminence grise?
RENNA: The power behind the throne. And I probably don't thank her enough. The people who are close to us, who know us, they certainly understand that we're a true partnership — and that ain't easy. [Laughs.] It's hard to be in business with your spouse.
MW: But you've been successful. Tell me about the Platinum PR Awards 2007 honorable mention.
RENNA: That was huge. That was amazing. Again, that was Leah. I was like, "I'm too busy, I've got work to do." She said, "No, we must put in the submission."
We worked on what was probably the most visible moment for LGBT families ever, barring maybe Rosie coming out as a lesbian mom. We worked with Family Equality Council, formerly known as Family Pride, on the White House Egg Roll.
We seized the opportunity. We framed it correctly. We made it all about the kids and families. We didn't politicize it. Other people tried to. And with not a lot of money, and a tremendous amount of work and heart on our behalf — this was a month after the firm had opened — we worked with Jennifer Chrisler and her staff and we had over a hundred families go to the White House for the Easter Egg Roll. We basically stole the op-ed from the Bushes. The picture in the New York Times, the picture in the Washington Post, the pictures all over the AP were not George Bush blowing the whistle so that the egg race could start. [The pictures were of] two dads with their kid in stroller, in the rain, with their rainbow leis on. It was an extraordinary experience, as a mom, as well as someone working on it.
MW: Bushes aside, you've tangled with some fairly right-wing pundits. Do you enjoy that?
RENNA: I really won't work with clients if they have a problem engaging with these individuals who are not necessarily on our side, but who reach millions of people who really need to hear the truth. I've never been afraid to do that myself, and I have the privilege of working with clients who do not have that fear either.
Oliver North would send me cute little notes that said, "Thanks for disagreeing without being disagreeable. Semper Fidelis, Oliver North." I would send him a note back and say, "Thanks for giving the opportunity, happy to do it anytime you want. Semper Homo, Cathy Renna." Paul Begala was his co-host, and he always thought it was hilarious.
The fact is, if you don't meet people where they are and don't engage them, you can't change them. And their audience is really the people you want to reach. If you can do that well, you can do this right-wing stuff and not take it personally. Otherwise, you feel personally attacked. You get defensive. You get angry. You feel like you have to take a shower afterward. I don't feel like that anymore, because I get the role that I play and I get the impact that my clients and I can have.