It's been almost a week since I saw Speed Racer and already I can't remember a thing about it. I vaguely recall it being comprised of lots of profoundly, blindingly oversaturated colors. I seem to recall several races between highly stylized automobiles with all kinds of widgets and gidgets on impossible, Hot Wheels-like tracks that bore no resemblance to reality and fully defied the laws of physics. I think there was a monkey. Yes, yes, there was definitely a monkey. Oh! Oh! And a bubblegum pink helicopter! And a… and a… oh, well, it's gone again.
Such is the fleeting experience of Speed Racer. You give up two-plus hours of your life only to have it gone in 60 seconds.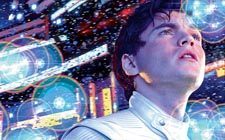 Color me speedy: Hirsch
Written and directed by Andy and Larry Wachowski — aka The Wachowski Brothers, aka The Dudes Who Directed The Matrix Trilogy and Drove It Into the Ground — Speed Racer is meant to accomplish two things: crank open the nostalgia floodgates for those of us who, like myself, grew up with the Japanese anime series in the '60s; and delight a new set of kids, preferably boys around the age of 8, with a visual spectacle that provides all the hallucinogenic benefits of an LSD trip without any of the nasty side-effects. It makes for a couple hours of dazzling eye-candy. (A friend remarked that the movie looked as though it was filmed through a lens fashioned from Jolly Ranchers.)
There is no doubting the Wachowskis' prowess as visualists. Their movie is akin to a work of pop art; a living painting at times, it engages the senses on an anything-but-subliminal level. Yet, the best art requires even the slightest touch of depth, and Speed Racer has none. It's all zip-zoom-vavoom. Yes, there's a narrative — and there's even some impressive narrative complexity in the structuring of Speed's backstory, as the Wachowskis zip in and out of timeframes to keep the action racing — but it's all smoke and mirrors, a distraction from the fact that the storyline is infantile and the dialogue positively prenatal.
Some will defend the film, making the argument that it doesn't need a better script. It's family entertainment, designed to accompany huge, greasy tubs of popcorn and soft drinks the size of a toddler. Yet, I would point you to the best family film of yore — Mary Poppins — which not only captivated the senses (albeit in a much less speedy way), but engaged the mind with a script that didn't pander to the 4-year-olds and bore the adults. The best family films cater to everyone in the family.
Actually, Speed Racer is endemic of what's wrong with Hollywood these days. The effort being put forth is purely on the visual scale — and while cinema is often regarded as a visual artform, it is, at its core, the domain of the screenwriter. The greatest movies are all built on a foundation of a great script. The Wachowski Brothers seem to be incapable of the kind of writing needed to take their films to the next level. They think on one plane only.
Granted, that plane — visual — provides for some amazing stuff. And the irony here is that Speed Racer never flags. Yes, it's a half hour too long, but it engages you throughout. It's a weird feeling to leave the theater thinking you really liked what you just saw only to have the feeling dissipate 20 minutes later, replaced by a full-on disdain for being bamboozled.
The Wachowskis' idea of depth is to casually throw in references to other movies — and cinemaphiles can while away the two hours trying to play a game of "In What Movie Have I Seen That Before?" Here are some answers for you: Tron, Dick Tracy, You Only Live Twice, Willy Wonka, oh, and of course, The Matrix.
SPEED RACER

Starring Emile Hirsch, Matthew Fox
Rated PG
135 Minutes
Area Theaters
Well, at least the movie is perfectly cast. The actors — particularly Emile Hirsch as Speed — eerily resemble their cartoon counterparts. Hirsch is a tremendous young actor — to see just how great, watch him in The Mudge Boy and Lords of Dogtown — and he really deserves better than this. But in order for his career to advance he needs to do movies like Speed Racer. Such is the sorrow and the pity of being an up-and-comer in today's film industry.
The movie could use a lot more of Christina Ricci's Trixie, and a lot less of Paulie Litt (Speed's annoying little brother Spritle) and his chimpanzee, Chim Chim. Their antics, which often revolve around stealing candy, are beyond annoying to a guy my age. To an 8-year-old, though, they're the heart and soul of the movie. What kid doesn't want a candy-thieving monkey for a sidekick?
The best performance belongs to John Goodman, who, thanks to his work on The Flintstones, has experience bringing a cartoon figure to life. His Pops Racer is commanding — all bluster and boom and played with a great spirit of fun. He's a treat whenever he comes on screen. The other notable is Matthew Fox as Racer X, who may or may not be Speed's long-lost brother and who actually invests some drama into his performance, despite the fact that he's required to wear a rubber suit with a mask covering half his face that makes him look like he's stepped out of a fetishist convention.
So sing "Here he comes, here comes Speed Racer" all you want. I'm much happier with the refrain, "There he goes — and good riddance."
From Yahoo! Movies: Speed Racer (First 7 minutes)