Could 2008 be the year a major hip-hop artist comes out?
One former MTV producer suggests it might. Terrance Dean has just published a new memoir about hip hop's "thriving" gay subculture, and he hopes it helps propel a star to pride.
But as monumental and welcome a development as that would be, why wait? Bry'Nt — out, proud and gay — is already here. The Hartford, Conn., native will make his gay pride debut this weekend at DC Black Pride, and he'll release his first mixtape with original tracks two days later.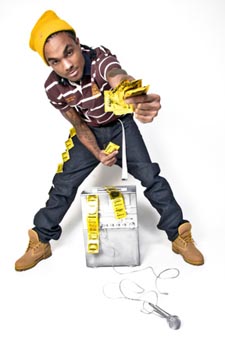 Bry'Nt
"For so many years, everybody seemed to think that when you hear the word gay, it's like 'faggot' — that's like the first thing that came to mind," says Bry'Nt. "I just want to be that person who just breaks down all those stereotypes. Gay people are not just the weak faggots that people think. We're actually strong people, we fight…. We're aggressive. We're just strong men, period."
After years of fiddling with the karaoke machine he got for Christmas at age 8, Bry'Nt started seriously recording raps at 15 as part of a neighborhood group. Two years later, he owned up to his sexuality and started rapping on his own. He decided to slightly alter the spelling of his given name to make it more consonant with his harder public persona. Now 22 and a student at Central Connecticut State University majoring in sociology, Bry'Nt hopes, as he puts it, "to be able to eat off of making music." But he's not aiming to make it his fulltime career to change the whole world.
"I just want to put an image of a strong black gay man out there in music. I kind of just want to touch upon subjects people don't talk about." As raunchy and raw as the next rapper, Bry'Nt doesn't just rhyme about his spitting skills and sexual prowess. He includes messages about the need for safe sex. "Rip it, taste it, hold it, roll it, pinch it, take it, but don't break it," goes the first round of the amusing helium-affected chorus to "Don't Break It."
Bry'Nt's predominant message in his music is self-respect, as well as the pain caused by a sexual double life. On "Sex, Drugs & Money," he reflects on the lack of role models for questioning gay youth, culling from his own experience.
"When you're a teenager, and you're new to this lifestyle, you can be very vulnerable," Bry'Nt says. "You don't have anyone to show you how to date, you don't have dating outlets." And closeted men will take advantage of a young man's eagerness to connect with someone of like mind. "Guys would use sex, drugs and money to show me that they love me back, but that wasn't it, you know what I mean? That's not love. So, I was kind of tricked into thinking these guys cared about me through those three things." You might say he was just getting paid to keep quiet about getting laid, all the while thinking it was made.
Bry'Nt tackles the hurt he's witnessed by the down-low phenomenon even more broadly on "Not Home," which he says straight women are responding to. "I'm getting more points on the female side for schooling them on this lifestyle that they don't know much about."
But Bry'Nt's not naïve about how much success he can expect.
"Everyone thinks that commercial success is the end goal, but that's not it for me," he says. There's a reason he has titled his debut mixtape Porn Star – and it's not because he is or ever plans to be a sex actor. "Basically people like me, they admire my music, but it's in secret — it's taboo — just like you admire a porn star. I get that from everyone who's straight, and even a few gay people."
In fact, he originally planned to make the correlation more explicit, titling the set Rap's Tiger Tyson, after the famous gay porn star. Tyson "epitomizes masculinity, he's the one everyone wants to be, everyone wants to sleep with," says Bry'Nt. "Meanwhile, although he's all these great things seemingly, he's still somebody you wouldn't" talk about publicly with just anyone. People watch pornography in secret." Tyson turned down Bry'Nt's appropriation of his name.
"I just want to go down in history as being the one that decided to break that barrier, that decided to make hip hop open to every topic," Bry'Nt says. "I should be able to talk about whatever I want to talk about, that's the whole barrier I'm trying to get at."
Bry'Nt says he intends to work with another out rapper on his next mixtape. And who knows, maybe a future collaboration will be with a newly out major artist.
But Bry'Nt is out and ready now. Aren't you?
Bry'Nt will open for Fantasia at "The Nucleus," the official DC Black Pride UNITY Party, Sunday, May 25. For ticket info, visit www.dcblackpride.org.