If you are a giggler or not immersed to the point of humorlessness in the traditions, quirky and otherwise, of opera, be strongly advised to avoid alcoholic beverages before seeing the WNO's production of George Frideric Handel's Tamerlano –at least until one of the two intermissions, that is. Don't get me wrong — this is a most wonderful and well done opera, a fine example of Handel's baroque splendor. It's just that it has the teeniest of little surprises in it and if the defenses are down… well, let's just nip in the bud right here, shall we? The surprise and delight, I will add, of this opera is the fascinating phenomenon of the countertenor.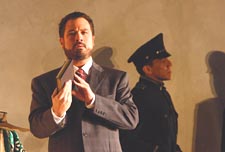 Tamerlano
The countertenor (though it infuriates those steeped in the history, vocal science and art of the voice to say it) is best described, at least superficially, as a man who sings like a woman. In Tamerlano, it is a swaggering, skirt-chasing, mayhem-loving man singing like a woman. It is incongruous, even slightly alarming, but it most definitely is not meant to be funny. See what I mean about the drink? Welcome to opera.
And yet what a treat it is to experience this ancient "voice." David Daniels, internationally renowned for his countertenor, and surely well aware of his shock-value, does a tremendous job of throwing off the novelty by shoving front and center not only his tremendous talent and skill for the genre but also a full and immediate embodiment of the mercurial and passionate Emperor Tamerlano. Three hours to listen and contemplate his sound is a fascinating thing. It is as soaringly agile as a woman's soprano and yet imbued with an unmistakable masculinity. Is it beautiful? That is for you to decide.
Daniel's energy is well-matched in soprano Sarah Coburn singing Asteria, the Emperor's exotic prisoner and unwilling love object. Coburn is an understated but very effective actor with a gorgeous, full sound. She molds herself admirably to the Handel though the ear does long to hear her velvety tones in a traditional bel canto role.
TAMERLANO
5/12, 20, 22
Kennedy Center
Opera House
$55-$225
202-295-2400
www.dc-opera.org
The ever-magnificent Placido Domingo graces the stage as Bajazet, Asteria's noble but beleaguered father, punctuating Tamerlano's K-Street boisterousness with the darker and far more ominous emotions of a father incapable of protecting his daughter or his dignity. Domingo brings us the heart and soul of this story leading us inexorably to his own tragic conclusion despite the comedic moments here and there among the other characters. As always, he demonstrates an amazing ability to emote vocally and dramatically on an essential, incredibly compelling level. It is quite extraordinary to hear this sensibility in the baroque context. Interestingly, Director Chas Rader-Shieber does not quite keep Bajazet and Tamerlano in the same world, either in costume or in outlook, and this disconnect seems almost a nod to Domingo's own iconic status.
Mezzo-soprano Patricia Bardon takes a trouser role as Andronico, the Greek prince vying secretly for the love of Asteria, delivering with grace and subtlety some of Handel's most potent moments of longing and loss. Bardon's man is well-crafted with none of the creepiness that sometimes haunts the trouser role. Mezzo-soprano Claudia Huckle as Irene, Tamerlano's official betrothed, brings much verve and humor to her role and sings with a pleasurable confidence. Like Daniels, she tends to "rock out" to the particularly demanding vocal moments which is a tad distracting but no doubt all part of bringing the Beyonce out of the baroque. Bass-baritone Andrew Foster-Williams provides excellent support and delivered his central aria with wonderful brill. Conductor William Lacey encouraged a generally cohesive and energetic performance from the WNO orchestra.
All told this is a wonderful opportunity to experience a rarely performed but major Handel work. Just brace yourself for the bearded lady and you'll do fine.