Tony Campbell literally stumbled into his current role as a party promoter.
"Mike, I'm a doctor, I don't know anything about it," Campbell says he told Be Bar's Mike Watson. But Watson persisted. Watson was impressed, according to Campbell, by "the character and quantity of black guys" who turned out for a random Christmas party Campbell threw at the club in 2006. A short two months later, President's Day Weekend 2007, Campbell launched Park, a Sunday night hip hop party, now one of Be Bar's most popular weekly events.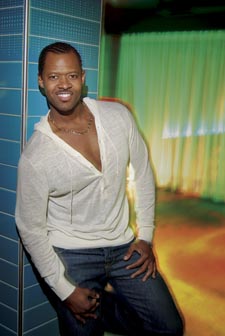 Tyler Campbell
"The party kind of grew by word of mouth," says Campbell. "Within about two or three weeks of us opening, we had a pretty steady [flow]." He attributes the success partly to timing. "With the closing of all the clubs in Southeast, there was a big void as far as places to go for the black community."
But a bigger draw is the laid-back vibe, right down to the name. "Sunday in the Park," explains Campbell. "It just kind of gives you that feeling of chilling out on a Sunday. We kind of try to make the atmosphere, make people feel at home, at ease. Whatever you feel like doing: If you want to have a drink, if you want to just sit around and talk, you want to watch, you want to dance, you can do whatever you want to do. And I think people like that."
"We're getting a lot of the crowd in D.C. that doesn't always go out," Campbell continues. "They like to come to this place because it's a little more mature, it's a little classier, but at the same time it's not pretentious." He says the crowd, though made up chiefly of gay, black men, is generally a nice mix of straight and gay, black and white, male and female.
Popular longtime DC DJ Erin Kelly serves as resident DJ, playing mostly hip hop and R&B. Though, notes Campbell, Kelly sometimes throws in go-go or reggae, "for fun."
And fun is what it's all about for Campbell. "As far as I'm concerned it's worked out because…I'm a people person. I've never been out this much in my life. But I do enjoy it. It's fun."
Be: Park takes place every Sunday at Be Bar, 1318 Ninth St. NW. Doors open 9 at p.m. Free before 10 p.m., $5 after. For more info, visit www.bebardc.com.