Ask DJ Mandrill to name some classic house tracks, and he could go on all night. His exhaustive knowledge of dance music is impressive, not to mention infectious. Even if you missed out on house's heyday, he'll get you up to speed and make you feel like you were there — like you're still there.
Which is exactly the point.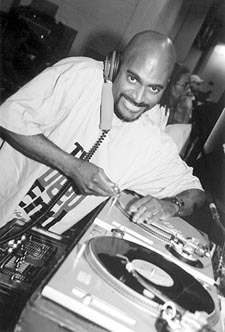 DJ Mandrill
"What I find the most rewarding," he says, "is when I play a record and somebody walks over to me and says, "Oh my god, I thought I'd never, ever hear that in a club again in my life. Thank you so much for playing that.' I can't tell you how often I hear that. My interest is to keep something alive that's dying. And that's soulful, uptempo, underground dance music. It's literally just being squeezed out." Specifically, "squeezed out" by more commercial dance music, namely hip hop.
And who better to come to the rescue than the Best of Washington, the legendary gay black social club known for its parties in the late '70s and early '80s, when house music first emerged from disco?
"It was a natural thing for us," says Otis "Buddy" Suston, one of Best of Washington's original members and its current chairman. "Something we sort of specialize in, if you will. We give good parties. So this is right on the money for us."
This Saturday, May 24, the Best of Washington will put on its first Black Pride-affiliated party, "Gonna Make You Sweat." And naturally they tapped DJ Mandrill to spin. Mandrill says to expect "uptempo R&B/dance stuff, which some people call house, as well as classic disco, classic underground and it will incorporate newer club stuff" — though, he stresses, not hip hop. It's just not part of the legacy.
And whether you mean Mandrill and his parties at the Club House or Best of Washington's All-Night Struts, which actually once competed with Mandrill's event, that legacy is noteworthy. DJ Frankie Knuckles, for one, has even given Mandrill props for helping pioneer house music. A not insignificant compliment, given Knuckles is known as the godfather of the genre.
Mandrill doesn't spin as often as he used to, and he doesn't really tour as a DJ these days, which suits him just fine.
"I'm not interested in becoming a star," he says. "I just do what I do for the love of the music."
Every Sunday for the past year, Mandrill's been throwing a party at the Fab Lounge north of Dupont Circle. He says the party, Sunday Soiree, peaks mid-evening and caters to a diverse though primarily black crowd of men, generally aged 35 and up. It's one of the very few nightlife options for the mature black crowd, according to Mandrill.
"Certainly there are clubs in this town that have a piano bar in them, so that presumably an older crowd would be more interested in something a little more tranquil, a little more laid back." But nothing for those over 40, weaned on house and wanting to move.
Though music once fully supported him, Mandrill says he's happy these days that it's just a "nice supplement." He now focuses his time on "the other career I've been avoiding all my life." Having been a counselor with Whitman-Walker Clinic for years, Mandrill is currently in school studying psychology, with plans to become a social worker. But he hasn't given up music yet. He's still a Billboard reporter, a coveted designation allowing him influence on the magazine's main dance chart.
Mandrill notices a clear generational divide not just in what people want to hear – hip hop is the litmus test – but why. He thinks it has something to do with the assimilation of gay culture into the mainstream.
"When I talk to younger kids, they're not interested in having something different, and having something that's their own, they want to blend into mainstream society," he says. "I don't have anything against that, but our generation was completely different. We wanted something that was our own."
Today, he notes, those in the younger generation turning to house are more likely straight, seeking their own refuge from the hip hop mainstream. When asked how to turn young gay people back onto soulful house music, Mandrill calls it an "overwhelming task," but that the only thing to do is just keep doing what's he doing, offering opportunities for people to hear his music.
"I just think I should present it and those who need it will seek it, find it, learn it, want to be about it. I don't want to force it."
Sutson says Best of Washington will continue doing what it can to help people appreciate house. The organization is considering hosting more events over Black Pride in future years.
"Hopefully this will grow. It's a natural fit for us," Suston says. "I think we should get back to basics, since we're competing with so many other events going on. We don't have palm trees or an ocean, so we have to get more creative," he says, referring to the lure of Miami or Mexico over Memorial Day.
No beach or ocean – but D.C.'s house can make you sweat with the best of them.
DJ Mandrill will spin at the Old School House Party, this Saturday, May 24, from 10 p.m. to 2 a.m., in the Lower Level Ballroom of the Renaissance M Street Hotel, 1143 New Hampshire Ave. NW. Tickets are $10 in advance (available at the Hospitality Suite) or $20 at the door. Official Pride, VIP and Platinum Pass Holder enter free. For more info, visit www.dcblackpride.org or see the Nightlife listings.