In the early 1990s, long before taking on the role of Karen's sassy rival, Beverley Leslie, on Will & Grace, or Brother Boy in Sordid Lives, Emmy Award-winning actor Leslie Jordan was reaching under his bed for inspiration among the hundreds of journals he's written since his youth in Chattanooga, Tenn. He was crafting his first one-man show.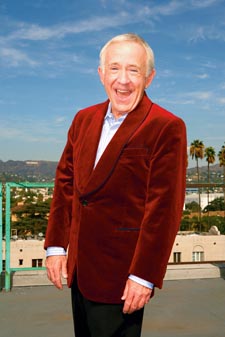 Leslie Jordan
"I keep them under my bed, because I always thought when I was a kid that that's where the monsters were," says Jordan. "So when the monsters would begin their moaning under my bed, I would just write. I sort of figured out that when I wrote on paper, I got clarity." The 53-year-old adds that, as a recovering alcoholic and meth addict, writing has proven therapeutic.
Jordan has used those journals — which include stories about his journey to making it as an actor in Hollywood — in his comedic one-man shows and in compiling his new book, My Trip Down the Pink Carpet, which hits bookstores on June 3.
Before releasing his autobiography, and reprising his role as Brother Boy on Sordid Lives: the Series on LOGO, Jordan is making a stop in Washington. He'll perform at the Gay Men's Chorus of Washington's May 17 Spring Affair 2008: Boots and Black Tie.
Jordan says the timing of the book was inspired by his involvement with the Trevor Project, a national hotline for GLBT youth, which he says receives most of its calls from the Bible Belt.

Leslie Jordan: My Trip Down the Pink Carpet
"I wrote this book for the young man or woman out there in our hinterland, so they can hear a story of someone who grew up like they did, and know that there is hope and that there is a God who loves them."
It's also filled with juicy gossip, including tales of encounters with actors like George Clooney, Matt LeBlanc and Billy Bob Thornton.
"I had huge crushes on all of them."
The Gay Men's Chorus of Washington's Spring Affair 2008: Boots and Black Tie, is Saturday, May 17, at the JW Marriott Hotel, 1331 Pennsylvania Ave. NW. Tickets are $150 and up. Available at www.gmcw.org/springaffair.