Earlier this month poet Dana Gioia, chair of the National Endowment for the Arts, delivered a commencement address to the 300 graduates at Wisconsin's Beloit College. He advised them to follow paths that would give their lives meaning.
Thankfully, Gioia's words were reserved for the class of 2008, as nearly a decade ago, they would have been wasted on Beloit alumna Courtney R. Snowden.
She got an early start on the path to meaning, canvassing D.C. neighborhoods when she was little more than knee-high.
"I remember Arrington Dixon running for City Council when I was a kid. My dad has us in T-shirts handing out fliers and knocking on doors with him. I was 5, and it was totally fun. It was something we always did. And every election, our mom would let us go in the booth and pull the lever. It was something we always saw as our responsibility, both serving on campaigns and, ultimately, voting."
As an adult, Snowden's civic dedication has been harnessed by Rep. Tammy Baldwin (D-Wis.), the nation's first openly gay, non-incumbent candidate to be elected to Congress; the Human Rights Campaign; and, currently, by the progressive lobbying firm The Raben Group.
While Snowden has accomplished plenty — and still just shy of 30 — there's more. She's nearing the end of her first year as president of DC Black Pride. With thousands of people participating in the annual celebration, now in its 18th year, and months of planning, the community may be grateful that such an empowered woman seems to be totally in control. And who can blame her if in this final countdown to the 2008 DC Black Pride festival, "18: Empowered & Poppin'," she might be just a little, well… exhausted?
METRO WEEKLY: You must be awfully busy right about now. How do you manage?
COURTNEY R. SNOWDEN: I don't know. [Laughs.] Hopefully it will become clear on the 26th.
MW: Are you tired?
SNOWDEN: I am so tired, but so incredibly energized by the weekend we have coming up. DC Black Pride this year is going to be amazing. My hope is that my enthusiasm for producing this great event will keep me moving throughout this week and next.
MW: What gear are you in, and how long have you been in it?
SNOWDEN: I'm in super-high speed. All of us, the whole board, have been in super-high gear for about the last nine weeks. We've been planning nonstop for the last year.
MW: I hope you'll get a vacation once it's all done.
SNOWDEN: Here's the funny thing: My birthday was May 2. I turned 29. I couldn't go anywhere for my birthday because of this, so Black Pride is my big birthday party. Then I'll enjoy a vacation with my girlfriend in the not-too-distant future. I think we're heading to St. Thomas — I need it!
MW: Not Beloit?
SNOWDEN: Beloit, Wisconsin! Ah, my third favorite place on earth. I went to Beloit College. I actually ran for City Council there. I was 20 years old. At my party on election night, I couldn't have it in a bar because I couldn't drink yet. [Laughs.]
I was in my last year of college. I finished in three, so it was my junior-senior year. I had said in my freshman year that I was going to run for City Council because the city needed some real change. I thought they needed some youthful leadership.
There was an opportunity, two seats open, and I ran for one of them. I was five percent shy of winning.
MW: What sort of place is Beloit?
SNOWDEN: Beloit is a special, little town. Beloit College is a small, liberal arts school of about 1,100 students. The town has about 50,000 people in it.
It has every problem of a major city, with the resources of a small town. It's the midpoint between Milwaukee and Chicago and host to many things, one of which is the drug trade. The community requires a number of services, while at the same time businesses have been leaving the community in droves. The Wal-Mart came in and it was just over.
MW: Are you from that part of the country?
SNOWDEN: No, I'm a sixth generation Washingtonian. My mother thought Beloit would be perfect for me, and she was right. Three of my neighbors actually graduated from Beloit and encouraged me to go. I did not want to go, but it was the perfect place for me.
MW: Beloit was your first time living outside of D.C.?
SNOWDEN: Yes, my very first time.
MW: And you came out at Beloit, freshman year, right?
SNOWDEN: Well, I told my sister when I was about 9. We were just talking and I said, "I think I like girls." And she said, "No, you don't." So I said, "Okay, no I don't." That was it.
Then, when I turned 18, I had this really cute teacher's assistant and I was like, "Oh, there's something there."
MW: I don't suppose you found any Black Pride events at Beloit.
SNOWDEN: Oh, no. There weren't enough black people to have an event. [Laughs.] I was the only out, black lesbian on campus. But my best friend was the only out, black man on campus.
MW: Newly out, hundreds of miles from home — did you feel isolated?
SNOWDEN: There were lots of things isolating about that experience, but Beloit is well known as a college that is a safe space for LGBT students. They have great faculty, good policies in place, and they offer domestic-partnership benefits. But not being out in D.C., not coming out around black LGBT people, I just didn't know we existed. I didn't know we were there.
MW: Do you recall your first time being in a predominantly black and gay environment?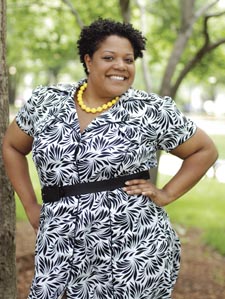 Courtney Snowden
SNOWDEN: Women In The Life did a party one year during [D.C. Black] Pride. That was one of my first experiences. That was like, "Wow."
I graduated and came home for good in 2000, but I think the party might have been in '99 — maybe I was just home for the weekend. I remember it was at the Washington Plaza Hotel. I remember meeting Sheila [Alexander-Reid] as clear as day. She lives not far from where I grew up, so I'm sure I'd seen her before, but that was the first time I remember meeting her. I remember walking in and seeing this room full — and I mean full — of black lesbians. And I thought, "Oh, my God. We definitely exist. We do exist. Yay!" I think I found heaven at that point. It was a good party.
I remember the first [Pride] workshop I did. The thing that stands out to me is a workshop that Angela Harvey did about how "butch" and "femme" women relate. There were probably 50 or 60 women in the room, all with very different perspectives about the whole "butch/femme" politick.
The parties were important and I enjoyed them, and it was great to see so many people come out for those — to see that we really do have a community — but the workshops showed me that there are a lot of folks in the community who are articulate, smart, well-educated, professional, and who are just living every day effectively, achieving all types of success. And they're out. That may have been the life-changing experience for me.
MW: Speaking of success, you may have lost your Beloit Council race by five percent, but you still managed to secure a spot on Capitol Hill right after college.
SNOWDEN: Working for Tammy Baldwin, yep. That's actually a funny story.
I've always known I wanted to run for office or be in politics. I didn't think I could anymore, after I came out. And then I met Tammy Baldwin.
The Democratic Party in Wisconsin has a leadership institute for college Democrats. I wasn't one at the time, but I went. I was a Republican. Honestly, I think I did that just to irritate my father. [Laughs.]
I met Tammy and I became a card-carrying Democrat. I met her and my life was changed. I thought, "If she can do it, I can do it." She ran as an out candidate, the first to ever be elected as an out candidate to Congress. And I thought, "I can do that. I need to know this woman. I need to spend some time with her."
I interned for her in her district office. She did an amazing thing: She let me follow her around the entire summer. I did all types of things. I went to interviews with her. I worked the parade circuit with her. She really took me under her wing that summer. When I was about to graduate, I sent her an invitation to my graduation and she asked me to come work for her.
MW: What did you do for her on the Hill?
SNOWDEN: I was the staff assistant and I had some legislative issues. I stayed with her for about a year and then I left to go to HRC.
MW: That year on Capitol Hill, was it stressful?
SNOWDEN: It wasn't stressful at all. It was a really great learning opportunity. It was fun to learn D.C. from a different side. Growing up in D.C., we don't engage much with Congress because we have a delegate, but not a voting member. It was really a great opportunity for me to learn how Congress really works. Not what I learned in the classroom, but how it really, actually works.
MW: Are you still close with Tammy Baldwin? Would you call her a friend? A mentor?
SNOWDEN: I'd call her a mentor. I introduced her at a policy breakfast that The Raben Group held and I said that to the group: "I would call her a mentor." I would not call her a friend. If I needed help or needed advice, I know I could call her.
MW: When did you get involved, in an official capacity, with DC Black Pride?
SNOWDEN: Three years ago, I came on as a board member. I was interested in helping the organization do some more significant fundraising.
I do remember my first Black Pride and the thing that was life-changing is I realized I wasn't the only one. That mission is so important. Certainly, raising money for local HIV/AIDS organizations is of über importance, but also creating a place where black LGBT people and their allies can come together and just enjoy each other in a very safe and welcoming space, is so important.
I always say Black Pride is the thing that may keep kids from committing suicide, it may give them a second look, because there are so many of us doing so many things and we're so successful. That's why I got involved. Three years later now, I have the honor of serving as president.
MW: Is raising money for DC Black Pride a difficult sell, or are people eager to open their wallets?
SNOWDEN: It's a little bit of both. We're proud to have Coca-Cola and KPMG as sponsors. They have sponsored multiple years, and they jump at the chance to do so. Of course our national organizations are helpful in providing support.
And the individual donors in this community really do make a difference. In fact, I was talking to a donor last week and he was saying, "You know, Courtney, I was at the very first Pride. I'm not sure there's a benefit to even having it anymore."
We had a very long conversation. I said, "Do you remember that first day you went to DC Black Pride?" And he wrote me a very big check as a result. While some of us may outgrow the parties and some of the events that we do on an annual basis, the reality is all of us remember how important that moment was in our lives. And we know that there are going to be many who come after us. So it can be difficult to raise money, but usually it's a pretty easy sell.
Of course, I wish we had more corporate dollars coming in and could build the budget that Capital Pride builds. I think in years to come we'll be able to do that. I think you can sell anything that is good, anything that you're passionate about. Luckily, myself and our board, we're really passionate about this, so we haven't seen significant trouble in that area.
MW: With all the work you're doing, I'm wondering how many hours of sleep you get.
SNOWDEN: Not many. [Laughs.] Particularly the last two or three weeks, probably about four and a half is the most I've gotten on any night. I love sleeping. I think I'd make it a hobby, but the day is too short and there are never enough hours. If I could figure out a way to not sleep at all so I could be more productive, I probably would do it.
MW: What about your girlfriend? Is she like you, or does she balance you? Are you two the up-and-coming D.C. power couple?
SNOWDEN: She carries her own and balances me out very well.
MW: If you run for office again, will she be behind you?
SNOWDEN: She'll definitely be behind me.
MW: And what are the chances?
SNOWDEN: Of me running again? I'd say there's a 100 percent chance that I'll run for office again.
MW: Do you have your eye on the mayor's office? A Council seat?
SNOWDEN: What a great question! I want to be president. I have to figure out how to do that from D.C.
MW: What's the time frame? Should we start writing checks now?
SNOWDEN: I'll happily take checks now! I imagine I'll run in the next three to five years. It's unclear for what though, at this point. I've always wanted to be a member of Congress, but Congresswoman [Eleanor Holmes] Norton (D-D.C.) doesn't look like she's going anywhere. And, of course, she's doing a great job on our behalf.
MW: Being a District resident does limit your electoral options.
SNOWDEN: I'm a native Washingtonian. I love this city. It would be hard to leave.
MW: At least you get to carry the title of president for the time being.
SNOWDEN: It's a two-year term. I will have been serving for a year in August. Each presidency has two Prides under their belt. In a year and a few months, if the board feels confident in my ability to [continue to] run the organization, I absolutely will. It's been a real honor.
MW: There's no term limit? The board could ask you to continue?
SNOWDEN: They could. Now, … this is a lot of work! [Laughs.] It's certainly been an honor to do it, but there's got to be some natural turnover that happens so that these events and the goals of the organization can stay fresh. But I certainly plan to stay [on the board] as long as I'm welcome.
MW: What sort of legacy do you hope to leave with your DC Black Pride presidency?
SNOWDEN: There are three things I'd really like to do.
I want to continue to work to make the event and the organization more attractive to corporate donors. That's one of the ways we're going to continue to expand this event and make it successful.
I'd love to double participation from 35,000 to 70,000 in the next few years, if possible.
[And] I'd really like to have DC Black Pride become an organization that really focuses on more than just planning Pride, more than just throwing events or co-sponsoring town-halls during the year. I'd like us to get some staff — and that takes money.
Ultimately, what I want is for us to build a vibrant, strong organization that can be passed down from generation to generation.
MW: With DC Black Pride 2008 — 18: Empowered and Poppin' — what are you most looking forward to?
SNOWDEN: I'm looking forward to reflecting on the successes of the week, sitting back and saying with my fellow board members and volunteers and donors who all come together to make this happen, "Look what we did. Look what we accomplished again this year." And giving ourselves that pat on the back.
But the thing that I'm most looking forward to is just seeing all these people together, benefiting from each other's energy and learning something; coming together to have some fun and be re-energized to either go back to their communities in D.C. or to their communities around the country and really make some substantive change.
That's really what Pride is about: bringing people together to empower them, to help them to know that they're not by themselves and that when they go back home they have to demand better.
MW: Do you have a special invitation for people coming from out of town?
SNOWDEN: This is the premier event to come to. They absolutely should be here. I'm confident when they leave here, they will feel empowered and they will go back to their communities and build the types of events that they want. I realize that it's a significant luxury to be able to live in a community where I can be out all the time. I realize it's a luxury to live in a community that has laws that protect me on a host of fronts. I would encourage them to come here and enjoy the safe space that we have here. Then go home and try to recreate it.
DC Black Pride's Official: 18, Empowered & Poppin' Festival will take place on Sunday, May 25, from noon to 6 p.m. at Francis Field, 2425 N St. NW (just behind P Street Beach Park), featuring corporate and non-profit vendors. Admission is free. The official host hotel for this year's events is the Renaissance M Street Hotel, 1143 New Hampshire Ave. NW. For more information on the various events, pick up a copy of the Official 2008 DC Black Pride Guide or read the guide online at www.metroweekly.com. For more information on DC Black Pride, visit www.dcblackpride.org.