A batch of new songs and unpredictable '80s covers is what you can expect to hear at Eric Himan's CD release party for his latest album, Resonate, at Solly's U Street Tavern on May 17.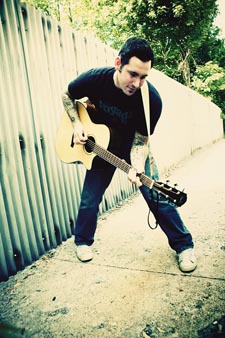 Eric Himan
"I'm just trying to be really upbeat," says the gay Tulsa, Okla., resident of his most recent shows. "A lot of times people see 'singer-songwriter' and think it's going to be quiet, but I have a lot of energy. Just because I have an acoustic guitar doesn't mean I can't rock it out."
Himan has been rockin' it out since "accidentally" discovering his voice as an adolescent.
"I was this 14-year-old boy, turning my Janis Joplin up so that I didn't have to hear myself yelling at the top of my lungs," he says. "I probably sounded like a cat dying for a good two years, but by the time I got to college I had a good grip on my voice. I knew what I could do and what I couldn't do. But I didn't stop there. I just kept working it and working it. Even from my first CD to now, you can hear a giant change in what I can do with my voice."
With Resonate, Himan has hit a chord with fans he says have already memorized the lyrics on the new album.
"I see people's mouths moving when I'm singing new songs," he says. "That's been really cool. They know the words to the CD before they show up."
And those lyrics can get awfully personal in songs about his family, gays in the military, and the war in Iraq.
"When you put your opinions out there, you're really vulnerable."
Eric Himan performs at Solly's U Street Tavern, 1942 11th St. NW, on Saturday, May 17. Tom Goss is scheduled to open the show at 8:30 p.m. Tickets are $5. 21 and up only.
From YouTube: Eric Himan: There's Gotta Be Something
Advertisement

| | | |
| --- | --- | --- |
| Eric Himan: Resonate | Eric Himan: All at Once | Tom Goss: Naked Without You |