All one can really say about the Folger production of The School for Scandal is that it should have been good. A British director such as Richard Clifford, who should understand the staging of a bright wit like Sheridan, combined with such a wonderful and varied cast, should have produced magic. Sadly — and despite much energy and team spirit — this is a show only a Freedom-loving retiree whose tour once stopped at Stratford-Upon-Avon in the days before the dollar dropped, could love.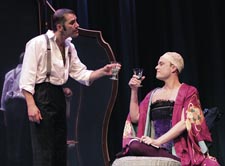 School for Scandal
The first problem here is simply where the hell are we? Sheridan set this bouncy tale of gossips and cads and their comeuppances in his world of 18th century London. Director Clifford tells us that he has moved the action forward to the late 19th Century — but it is still apparently meant to be London? Certainly all of the references remain. And yet only one player speaks with an English accent (albeit a changeable one). Pretty much everyone else sounds like ranchers and their slightly more educated womenfolk. Add to this the temporally and geographically amorphous costuming and the result is Sheridan meets the Wild West, musical-theater style. Deadwood may have succeeded in pulling off this kind of contrast, but Clifford has not. It's enough to makes your teeth hurt.
And then there is the second problem: a talented cast dumbing itself down. Perhaps they just couldn't fight the absurdity of the idea of an enclave of cattlemen in the middle of Oscar Wilde's London, but other than a few subversive moments of subtlety, this ensemble continuously defaults to the kind of chronically unfunny obviousness of the network sitcoms.
Almost escaping the clichés is Tom Story as the disturbingly large and masculine Lady Sneerwell, the monumental gossip due for a fall. Beneath the comic bluster, he is a quietly subversive and memorable presence. One senses the performance that could have been in the version that never was: something far edgier, far more joyously unpredictable. Story comes the closest to actually being funny with his visual gags and face-pulling, but the character of Sneerwell never quite coalesces without more to play against. The incongruence of the opening scene in which he/she appears to be "engaging" with her manservant Snake is simply a languorously creepy red herring. It adds nothing when tacked onto the front of an otherwise milquetoast interpretation.
David Sabin, an actor of pedigree and depth, brings a certain intensity and feeling to his role as Sir Teazle, the cuckolded older husband, but far more often he gives in to cliché. He just looks and feels like he belongs in one of those sanctimonious made-for-TV movies designed with the senior in mind. Similarly, Kate Eastwood Norris, as Teazle's young and feisty wife, is inoffensive and entertaining, but her stagecraft and the choreography really put her right smack in the middle of the parasol-waving musical this play wants to be. Catherine Flye, another stalwart, delivers her elderly gossip Mrs. Candour with industrial strength but little comic spark. Cody Nickell playing the scheming and skirt-chasing Joseph Surface, does his best Hedley Lamarr impression but he is another actor with far more to him than this kind of pretend play.
Three other players: Clinton Brandhagen as Charles Surface, Laura C. Harris as Maria, and Theodore M. Snead as Careless, are in need of rather better homes for their integrity. All seemed poised to offer some subtlety and ingenuity to their roles, but they are fish out of water here.
THE SCHOOL FOR SCANDAL
Folger Theatre
201 E. Capitol St. SE
To June 15
$34-$55
202-544-7077
www.folger.edu
Huge Nees, as Sir Oliver Surface, the moneyed uncle who returns to examine his potential heirs, on the other hand, is the one actor in the ensemble who seems to take an unabashed pleasure in beating the wit dead. There is no pause too long for Nees, no line that can't be dragged out to the point of extinction. Perhaps he is the one who "gets" it.
And what is there to get? There seems no point to this rendition unless one takes the cynical view that it is yet another pandering to the current edict on patriotism. How a British director got himself caught up in it remains a mystery.