A months-long teaser campaign for Cobalt's new party stoked confusion. "For the longest time people thought we were promoting a new gay airline," jokes Cobalt general manager Jason Royce. Amusingly rendered "boarding passes" will gain you free entry to special-event party Flight 1639, named after the club's street address. But you won't actually take flight: The highest you'll get is two stories above ground. The point is simply to elevate a standard night-out at the 17th Street institution, explains Royce.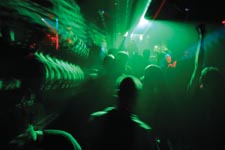 "When you see it's a Flight 1639 night, you'll know it's something out of the ordinary for us, a not-to-be-missed event," he says.
Instead of flight attendants, Flight 1639 will feature out-of-uniform dancers and "go-go boys shaking their asses," as Royce put it. The party will also involve higher production than normal, including nationally known talent, from DJs to performers. This Saturday, May 17, for instance, Flight 1639 is throwing a party for Instinct magazine's 10th Anniversary, with 2xist underwear models and a Las Vegas-bred host prone to stripping down to a bow-tie: Brandon Pereyda, the first openly gay dancer in the Chippendales troupe.
In the DJ cockpit: L.A.-based Scotty K, making his D.C. debut. An increasingly prominent remixer, Scotty creates big and bright productions, heavy on diva vocals and a sunny, synthesized sound in classic gay club style.
Royce says Cobalt will charter Flight 1639 various nights of the week, generally staggered a few weeks apart. He's still working out details for upcoming events, but Friday, Aug. 1, is set for an Andrew Christian Fall Fashion Show, hosted by the designer himself and featuring DJ Kimberly S. In September, the club will throw a Canadian-themed party in context of Montreal's Black & Blue Festival, the circuit's biggest, featuring a DJ who will spin there and a drawing to win two passes. Royce also promises to have "big porn stars" appear in the next few months. "Big" being a key word, he says.
Which is true enough: There doesn't seem to be much small about Royce's plans. Though in this case, the sky is the limit.
The next Flight 1639 boards this Saturday, May 17, starting at 9 p.m. at Cobalt, 1639 R St. NW. Cover is $5 without a boarding pass. Boarding passes are available at www.flight1639.com.