W'S MAGIC MOREL… Right now, there's a new track credited to a Morel with a D.C. pedigree that is generating buzz. No, not Rich Morel's work on Cyndi Lauper's new single "Same Ol' Story" — though that's certainly producing heat, too. I'm referring to a track from George Morel and released on Yoshitoshi, the label of DC's own Deep Dish, who Rich Morel has worked with – most recently on the duo's 2005 album George Is On. Confused? You're not alone. In a February interview, About.com's chief dance music writer credited the Pink Noise handle to George Morel – even though Rich Morel has owned that remix alias for at least a decade now. George Morel didn't dissuade the correlation in the least, going so far as to explain just what pink noise is: the feedback produced on vocal tracks on old reel to reel tapes.
Anyway, the Miami-based George Morel, who used to work with C+C Music Factory and wrote the 1990 hit "Wiggle It" for 2 In a Room, has recently released through Yoshitoshi a track called "Let's Take Drugs." And it's a cheeky track not just because of its title and subject matter, but because of the featured voice advocating substance use: President George W. Bush. Morel mashes up quotes from the President to make it sound like he's advocating drug use as a way to cope with troubled times. "I want to take it," he says: "Let's roll!" "Every day, drugs; every night, drugs." The track itself features fascinating beats that make you want to take dru — err, move. Make you want to move. The track was popular during the Winter Music Conference in Miami two months ago, and it's slowly making its way onto compilations and podcasts, so soon enough you'll likely hear it — or hear about it. "Hope you all enjoyed your weekend as much as I did," Bush says. He should definitely consider quitting his day job….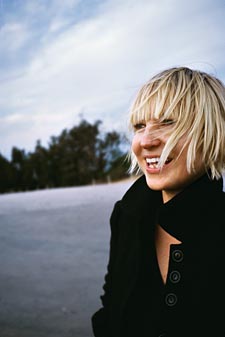 Better late than never: Sia
SIA'S SHOT OF ADRENALINE… Of course, taking too many drugs can cause real problems. As a certain unnamed ex of Sia Furler's can verily attest. Sia, as the bisexual Los Angeles-based Australian is known, came to fame with her haunting song "Breathe Me," used during the end credits of the final episode of Six Feet Under. But these days, she's a staple in clubland and at Starbucks — her impressive album Some People Have REAL Problems was released early this year on the chain's Hear Music label. Stonebridge has released a faithful remake of her warbly song "Girl You Lost to Cocaine," her first bona fide club hit and a song about going cold turkey on a lover who's addicted. But Sander Van Doorn, last year's Virgin Festival discovery, turns in the most captivating remix, a galloping and distorting dazzler that sounds like a shot of pure adrenaline. His version is so good, it nearly cracked the top ten of the Dutch pop chart. It's a standout track on Ultra Records' just-released Out Anthems 3 — though here it's listed as "Girl You Lost to C*****e," as if it were a dirty word and not just illegal….
WEATHER GIRLS' NEW-OLD FORECAST… A month ago, Ralph Falcon, Oscar G's partner in Funky Green Dogs and Murk, topped the Billboard Club Pay Chart for the second time in a row, with "Break You." That track as well as "I Found Someone" will appear on From Hollywood to Hialeah, a two-disc set that Nervous Records will release in September.
But do you know who sings "Break You?" "For a long time now, I've been thinking of you." It sounds a lot like Celeda ("The Underground," "Music Is The Answer"), but this singer has a deeper register. Could it be Celeda's brother? Until last week, it was pretty much anyone's guess. In the all-too-common but exceedingly annoying way of dance producers, Falcon was listed as the artist all by himself — even though he's never sung on his own tracks before. Even if he can sing, why start now? But last week the song's singer finally got a name. "Stop making me wait," the Weather Girls aptly sing.
Yes, "Hi, we're your Weather Girls" — though actually, Dynelle Rhodes and Ingrid Arthur are new to the name. They're the daughters of the late Izora Armstead, who started the duo with Martha Wash, and gave us "It's Raining Men." Clearly, the daughters have carried on their mother's legacy of singing songs that appeal to gay men. According to Falcon's publicist, they'll also appear on a second track on his Nervous Records release, though the label declined to release a full album from the Girls. "It didn't fall in line with their sound," according to the publicist….
D.C.'S AMERICA'S BEST DJ… This Saturday is your chance to hear one of D.C.'s most under-appreciated DJ's. Saeed Younan, still better known as the lead half of '90s tribal duo Saeed & Palash, will spin at Club Ibiza, a block from Fur Nightclub in Northeast. Younan is the official D.C. ambassador for DJ Times's 2008 America's Best DJ contest, now in its third year. Fans and patrons get to vote for their favorite among the 100 selected by the magazine's editors. Younan is still as focused on fetching tribal percussion as ever, as evidenced by his recent Spotlight compilation, and he hasn't let us down when we've heard him live before. So now's your chance to spread some hometown love….
From YouTube: George Morel: Let's Take Drugs
From YouTube: Sia: The Girl You Lost To Cocaine (Sander Van Doorn Remix)