As baseball season enters full swing, the new Washington Nationals stadium will mark its official two-month anniversary May 30. Meanwhile, it seems those Southeast D.C. gay-adult establishments displaced by the city's eminent domain claim that allowed for the new stadium, have long since died.
Booted out of the Navy Yard neighborhood ahead of the May 2006 groundbreaking, clubs with nude-male dancers, purveyors of pornography, or just venues made famous for drag shows, have been in limbo. Some have attempted to re-open, but to date, none have succeeded, thanks in large part to cumbersome licensing issues and not-in-my-backyard arguments by affected residents.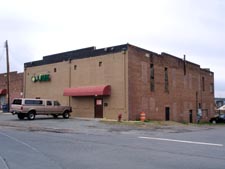 The new Ziegfeld's club location
But spring's heralding of rebirth and renewal is gracing one of those former establishments: Ziegfeld's/Secrets, famous for female illusionists on one stage, such as Ella Fitzgerald, and men dancing in nothing but socks on another. Last week, efforts to reopen the club passed a threshold.
Had anyone protested the club's attempt to move to 1824 Half St. SW, the Alcoholic Beverage Control Board would have last week heard those arguments. But the protest period ended April 28 and no protests were filed. Whatever the ABC Board dealt with last week, it did not include Ziegfeld's/Secrets. And while no one has filed a protest against the proposed transfer, Advisory Neighborhood Commission (ANC) 6D, in which both the former club and new location sit, has signed a voluntary agreement with the club's owner, Allen Carroll.
Generally, so-called "voluntary agreements" are instruments employed by ANCs to secure certain concessions from venues within their jurisdiction, outside of standing laws or regulations. The ABC Board is required to give "great weight" to an ANC's recommendations, making a voluntary agreement — or lack thereof — a critical element in ABC Board decisions.
ANC 6D also submitted a May 7 letter in support of Carroll's efforts to the board, according to a spokesperson at the Alcoholic Beverage Regulation Administration (ABRA), of which the ABC Board is a part.
While the ABC Board has not yet cleared the voluntary agreement, which should be forthcoming in light of the absence of protests, ABRA did release the May 7 letter, signed by ANC 6D Chair Roger Moffatt.
"The club's owner, Allen Carroll, in the past has been a good neighbor and good citizen," Moffatt writes, in part.
Moffatt did not return requests for comment by deadline, and Carroll declined to share a copy of the voluntary agreement. Carroll did confirm, however, that ANC 6D has been very supportive of his relocation.
"They worked with me very well," Carroll says. "It took a couple of weeks, but they were very good with me."
Carroll says that one point of the voluntary agreement is that a breathalyzer will be available for patrons to check their blood-alcohol levels.
Though clearing the transfer of his liquor license is a huge hurdle cleared, the reopening of Ziegfeld's/Secrets must also clear lesser hurdles from the city's Department of Consumer & Regulatory Affairs and Office of Tax and Revenue. Regardless, Carroll seems very hopeful that the club will open in about a month.
"I was pushing for [Capital] Pride, but I don't want to rush," he says of the opening date for the new venue, formerly home to Lime nightclub. "It will definitely be before the Fourth of July. The reason I don't want to rush is they're painting it and everything and I want to get it as nice as I can get it."
Metro Weekly staff writer Yusef Najafi contributed to this story.