A decade ago, Swedish producer Max Martin took Robyn to the top of the charts with "Show Me Love." Then he did it again with Britney and her debut single "Baby One More Time." Listening to the two songs now, you can definitely hear the pedigree. "Show me love, show me life, baby show me what's it all about," Robyn sang in an earnest, colorful croon over Martin's sauntering music — a technique Britney copied.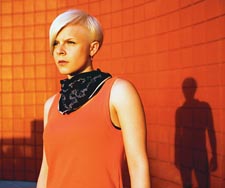 Show her love: Robyn
Nearly every article written about Robyn since has called her the sane, smart one — the "anti-Britney," as Wired put it. She's not really anti-Britney, however, having sung backing vocals on Spear's recent hit, "Piece of Me," another Swedish production, this time with Robyn's current main producer Klas Ahlund. Robyn's is the filtered female voice singing "you want a piece of me."
It's high time to take a fresh look at Robyn (





). Repeated creative disputes with her original label only fueled this feisty and talented firecracker to do it better the second time around — and completely her way. She launched her own label after a final flare-up with RCA a couple years ago, when they objected to her punky feminist anthem "Who's That Girl," about how she's not the subservient girl of a label's dream.
Robyn comes out swinging on her surprisingly strong and satisfying self-titled fourth album, the first to see stateside release since her debut. She exhibits an endearingly sassy but sweet personality only hinted at a decade ago, before Pink helped pave the way. The album's silly, humorous introductory track lays out her "Curriculum Vitae" in full, farcical swagger, and then comes her most audacious song, the obviously sumo-inspired, all-rap "Konichiwa Bitches." (Konichiwa, a Japanese greeting, is also the name she gave her label.) "You wanna rumble in my jungle? I'll take you on. Stampede your rump-a, and send you home," she taunts.
But underneath all the bombast and braggadocio, Robyn is remarkably candid about her emotional vulnerabilities, which actually fuels her self-assured fire. An exceptionally savvy songwriter, Robyn exhibits a maturity and an impressive perceptiveness about the human condition, especially when it comes to love. Her heart is simple but her soul is deep, she expresses on the touching (but still sassy) ballad, "Should Have Known." "When someone takes advantage of your kindness, you think you're never gonna heal," she sings. But in the end, you "know not to give up." "Yeah, I still believe in love," she concludes.
She powers her small but sharp and supple voice to express shades of emotion on various tracks here, including "Be Mine." "No you never were and you never will be mine," she repeatedly shouts in the chorus to her ex, though it becomes clear she hasn't actually gotten over him. Despite her resolve, you get the sense she would even consider taking him back. "I just miss you, that's all," she says in a devastating spoken-word bridge.
Sassy but sweet, strong but sensitive: Robyn is that girl we dream of.
Advertisement

| | | |
| --- | --- | --- |
| Robyn | Santogold | Estelle: Shine |
If Robyn could be the next European version of Madonna — or Kylie Minogue — Estelle could be the next Lauryn Hill. Amy Winehouse might be the first comparison to come to mind though, given that they're both British and both channel a retro-soul vibe. But whomever you compare her to, Estelle is being positioned as the next big thing in contemporary R&B. Here's hoping she gets huge.
Estelle draws from old-school R&B, even doo-wop, as well as hip-hop and neo-soul. One of contemporary R&B's finest, John Legend, is not only her biggest fan, he's her biggest proponent: Shine (





), her second album but first stateside release, is the first release from Legend's own Atlantic label offshoot, Homeschool. She sings a sweet ballad with him here, "You Are," just one of several high-profile collaborations. There's also Mr. Gnarls Barkley Cee-Lo Green, with the classic-sounding "Pretty Please (Love Me)." There's her duet with Kanye West on "American Boy," a sunny swan song of sorts to the special relationship between the U.K. and the U.S.
And then there's her collaboration with former Fugee, Wyclef Jean. In fact, even more prominent than both old and new R&B is Estelle's flair with dub and reggae, obviously a result in part of her Caribbean heritage. (Her father is from Grenada.) The result is music with serious heat and humidity. With Jean on "So Much Out The Way," Estelle is at her hottest and stickiest: This tri-part song starts off sweet but becomes a dazzling sinister dance-floor burner at the chorus.
Estelle generally seems more inspired by the sun and tropical breeze that comes by day than the dirty darkness of night. Daytime in the tropics is an exercise in keeping cool, avoiding overheating. On "Wait A Minute (Just A Touch)" Estelle calls for patience and a light touch, and notice the smart, just-a-touch percussion, from the light tap of bongos in the background to the short burst of horns providing the main beat pattern. "Just a touch: We can take our time, you ain't got to rush you know," she sings. Indeed. Estelle makes music to linger over and lose all track of time with.
From YouTube: Robyn, 'With Every Heartbeat'
From YouTube: Estelle & Kanye West, 'American Boy'