Given the continuing backlash on gas-guzzling SUVs and the ever-growing pain at the pump, "cute utes" — the smaller sport utility vehicles that offer expanded cargo space and a higher ride without the gargantuan proportions — may be poised to become even more popular.
That is, if they can stay small enough to remain cute. Many such vehicles start off small but over the years grow larger and larger, eventually bulging into the very thing they aimed not to be. (Toyota RAV4, I'm talkin' to you.)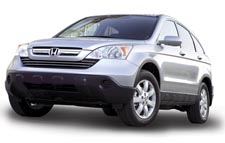 2008 Honda CR-V
The Honda CR-V, fortunately, has avoided a case of gigantism in its recent redesign. Instead, Honda has taken what was a competent but far from groundbreaking original and added enough spark and pizzazz to make it stand out from the crowd. Given Honda's mixed success at eye-catching design — the Element remains an ugly stepchild in the Honda line-up — the new CR-V succeeds with room to spare.
The spiffy headlight treatment meshes nicely with the front grille, while the sloping curve of the window line provides a nice transition to the back end, where the tall and angled taillights take over. It's not exactly a head turner for passers-by, but it's certainly a design that will be a welcome sight every morning in your driveway or parking space.
The two-wheel drive EX-L handles well and derives plenty of power from its four-cylinder engine. Four-wheel drive is definitely an option to consider, but that will make an impact at the gas pump.
2008 Honda CR-V EX-L
MSRP: $25,500
Gas mileage: 20 city/27 highway
Highlights: About as cute as Honda comes these days; good amount of room in a small package.
Lowlights: Although pleasant overall, some interior design choices are less than convenient.
For a vehicle priced in the mid-$20s, the interior is more than acceptable — you can make it nicer with leather seats and such, but be prepared to pay a heftier price. The automatic shifter is located oddly high on the dash, and when in "park" tends to obscure some of the other controls. Small things, like hiding the auxiliary audio input jack deep inside the console storage compartment, have a whiff of design afterthought.
But those are minor complaints about a small SUV that offers equally large helpings of "cute" and "ute."