If you find yourself in a hairy dilemma — wanting two eyebrows instead of your uni, or just in need of a cleanup that won't result in you looking like Boy George — you can relax. You're in the right city when it comes to taming your brows.
At Threads, all it takes is thin, twisted cotton threads in the hands of Preeti Singh, co-owner of the salon, or any of the other threading specialists there to do the trick.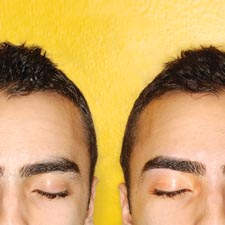 "Threading is better for men, for anybody really, than waxing, because I have control in what hair I am taking out," she says. "So if you say, 'I don't want to have arches and I don't want really feminine-looking eyebrows,' it's all in my hands."
Singh wraps cotton thread around both hands and her mouth and uses a nodding motion to twist the thread while pulling the hair out from its roots.
"With wax, your skin gets loose because it's pulled with force, so you lose elasticity of the skin. You'll realize that when you're older," she advises. "Threading is a very old method. We're just using cotton thread, no chemicals."
While the Grooming Lounge co-founder Pirooz Sarshar's Persian roots make him all too familiar with threading, he guesses that most local men aren't yet metrosexual enough to try the ancient Indian tradition, popular with women throughout the Middle East and in his native Iran.
The Grooming Lounge, an all-in-one salon for men, offers eyebrow waxing, says Sarshar, paying close attention to facial skin care in addition to working with other spots of unwanted hair, he says.
"One of the things that comes with our neck cleanup is an ear cleanup, because when we get past our 30s, we start to grow hair in very unusual places," he says.
Threads
1534-B
U St. NW
202-265-7710
· Eyebrows $15
The Grooming Lounge
1745 L St. NW
202-466-8900
www.groominglounge.com
· Neck and ears $15-20
· Haircut $50 and up
· Nose $25
· Eyebrows $25
Ava Salon & Spa
225 Pennsylvania Ave. SE.
202-544-5111
www.avasalondc.com
· Neck $15
· Haircut $38
· Nose $10
· Eyebrows $22
The Grooming Lounge uses tiny trimmers to clean ears, and wax to remove nose hair and to tame eyebrows.
"The reason we call them 'eyebrows,' in the plural, it's because you need to have two," Sarshar emphasizes, adding that a pen is used to show clients beforehand what the brows will look like when they are done.
"We don't take it too far. Eyebrows contribute a lot to the shape and frame of the face, and when you go too thin, it kills it. Our goal is just to open up the eyes and accentuate the face a little bit more."
Ava Salon manager Andre Hopfer uses a wax product called Nufree for hair removal, which he describes as more gentle than most wax products.
"When your eyebrows are done right, nobody can tell that you had them done," he says. Hopfer asks first-time clients to stand in front of him for a consultation in order to "assess the face and hair growth," before applying Nufree.
"It heats up to body temperature so it's impossible to physically burn anybody with it, and it stays soft on your skin, so you don't have to work very fast."
Hopfer also suggests waxing for neck hair.
"When you get a haircut, they usually just shave off your neck hair, or razor it down," he says. "But when you actually wax it, you remove the hair with the follicle, so your haircut looks sharper a lot longer."