Lawrence Webb made history this month.
May 6 saw several elections across Virginia, including the race for three seats on the Falls Church City Council. Come July 1, Webb will be sworn in for one of those seats. Having earned 18.85 percent of the vote — third in a seven-person race — Webb has become the first openly gay African American elected in the commonwealth.
"That's correct as far as I know," Webb confirms in a relaxed tone that betrays at least a hint of measured excitement. "I didn't necessarily at any point look at it that way…. I looked at [the election] as an opportunity to serve my community. That's been a longtime dream of mine, since childhood."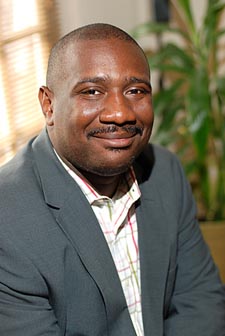 Lawrence Webb
Wanting to serve since childhood, the now 33-year-old Webb has thrown his hat into the political arena once before, becoming the first black student — class of '97 –elected to serve as president of student government at Shenandoah University in Winchester, Va.
The way Webb speaks about his home state, it's difficult to imagine him being as passionate about public service anywhere else. Webb is originally from Kenbridge, a small town with tobacco-farming roots in south-central Virginia, where much of his extended family still lives. Living in Northern Virginia since 1997 — first in Arlington, then Falls Church for nearly four years — Webb is in some ways a world away from Kenbridge. But Falls Church, he says, reminds him of what he misses.
"The small-town appeal reminds me of where I grew up. You know your neighbors, and they're very active in the community, at all levels. Living in Arlington, I'd gotten involved, but neighbors came and went pretty quickly. Some of my neighbors [in Falls Church] have been here 10 years or more. At this point, I don't see myself going anywhere anytime soon. My partner says he can't imagine me living anywhere other than Virginia."
Webb's love of Virginia — and love of his partner, Clifton Taylor — may be complicated by Virginia voters approving in 2006 arguably the most restrictive constitutional amendment of any state in the union, barring any and all recognition of same-sex couples, but not to the point that he would consider leaving, he says. After all, if he can win a local election as an openly gay man, he may be one of the keys to the state's progress.
"There are things that have made me think about moving to other states," Webb says. "I've thought about it. But when all is said and done, I still love where I live. I still love Virginia."
Webb adds that while his sexual orientation did not seem to be an issue with Falls Church voters, he's emphatic that race never was.
Instead, he thinks voters appreciated his endorsement by the nonpartisan Citizens for a Better City (CBC) group, as he plans to concentrate on measured, thoughtful development for the city.
"My agenda is to make sure that as we move forward with development, we're careful, making sure we bring the right sort of development. We're primed for the small, eclectic businesses, not necessarily the big-box stores. Boutique-type stores are more of a direction we could go in. Maybe bringing in some of the bigger retail — but being very selective."
Another endorsement Webb secured helped him with the nuts and bolts of running his campaign, he says, as well as securing votes. The D.C.-based Gay and Lesbian Victory Fund, with a mission to back qualified GLBT candidates for public office, put its seasoned muscle behind the Webb for City Council campaign. And though he is quick to credit his Falls Church campaign workers, including his tireless partner, Webb says the Victory Fund may have given him just the push he needed in this tight race.
"They did a great amount of stuff for me, particularly on Election Day," says Webb, who won his seat with by a margin of just 39 votes. "They came out and phone-banked to make sure my support got out to the polls. I think they definitely made a difference."
As Webb prepares to take his four-year term, nonpartisan seat — though he readily admits he's a Democrat — July 1, with his mother planning to travel up for the ceremony, Webb is left with just enough time to savor his victory before adding the business of running a city to his daytime job as assistant dean of administration at the University of Mary Washington.
"On an emotional level, I was on such a high [when I won]. It's been something I wanted. I worked really hard, knocking on hundreds of doors, going to every event, big and small. I feel I worked really hard, talking about issues with my positive spin, [presenting myself as] a fresh energetic face to move the city forward. I'm looking forward to rolling up my sleeves and diving in."