Unity might be key in celebrating Capital Pride.
There is, however, also something special about celebrating what might set a group apart, says SaVanna Wanzer, a transgender activist who serves on the board of directors at Whitman-Walker Clinic. Last year, she produced Washington's first Trans Pride, an event celebrating the transgender community.
"Trans Pride had been overlooked for 32 years," Wanzer says. "Before Trans Pride, the only thing that the transgender community could participate in was entertainment."
Building on last year's successful event, which Wanzer says drew a crowd of about 200 people throughout the day, the second annual Trans Pride event kicks off at noon, on Saturday, June 7, at the Foundry United Methodist Church, at 1500 16th St. NW.
The daylong event features workshops offering the transgender community information on finding employment, building meaningful relationships and undergoing reassignment surgery, among other topics.
Wanzer says attendees will be able to talk to surgeons who will share tips on how to find affordable and safe surgical procedures. Doctors will also discuss "feminization" and "masculinization," what Wanzer describes as procedures that help transgender people move closer to their gender identity.
"I want people to know that we're well-educated and that we can uphold jobs and do wonderful work in the community," Wanzer says.
Organizers are slated to honor those who have done wonderful work on behalf of the transgender community in metropolitan Washington, including local transgender activist Earline Budd and Councilmember Jim Graham (D-Ward 1), during Trans Pride.
---
Another sector of the GLBT community celebrating its individuality this month is the leather community. The third annual D.C. Leather Pride officially kicks off with the "Mr. & Ms. Capital Pride Leather Contest," on Friday, June 6, at the Green Lantern, 1335 Green Court NW.
"Leather is a sector of the gay community, and I keep talking about ensuring that we gather and talk about the fact that we have more in common [with the larger gay community] than we have not in common," says Michael Sessa, president of The Center-Home for GLBT in Metro D.C., who organized this year's events.
"That's why I lined up Leather Pride right in the middle of [other] Prides, so it's not separate and distinct, yet it's a little off on its own, because leather is a little bit different than Trans Pride and Latino pride.
"Everybody wants to be a part of the bigger picture, but also we don't want to forget the things that make us unique."
To highlight those things that make the leather community unique, Sessa is offering a 101 course on all things leather during D.C. Leather Pride's "Educational Program," on Saturday, June 7, at the D.C. Eagle, 639 New York Ave. NW, from 11 a.m. to 6:30 p.m. The program includes a wide range of leather topics, from communicating in relationships to playing effectively with nipples. Sessa says it's a welcoming atmosphere for those who might regularly be "intimidated" by leather events.
"What we've created is a daytime event where people can come in and meet other people," he says. "This is the time, if you're interested, to come out. Mid-Atlantic Leather weekend can be very intimidating, but this is a weekend to really come out, meet people and get involved."
Getting involved with leather provides an avenue of self-expression, Sessa adds.
"It gives you an opportunity to express yourself in other ways. Some people might say that about drag and the drag community: Why do men all of a sudden act different when they are wearing a dress? It doesn't change them. I just think it pulls out characteristics of them that they might not have had the chance to express. It's the same with leather. Leather provides you with an opportunity to express yourself in a different way."
---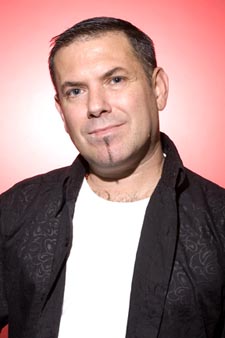 José Gutierrez
The newcomer to the June 2008 lineup of community-specific Prides is D.C. Latino Pride, thanks primarily to José Gutierrez, president of the Latino History Project and himself a Capital Pride Hero in 2005.
"We're basically going to be talking about the roots, diversity and identity of the LGBT Latinos and Latinas," he says, pointing specifically to a panel discussion and poetry reading taking place Friday, June 13, at the Human Rights Campaign's Equality Forum, at 1640 Rhode Island Ave. NW. "What is pride for Latinos and Latinas?"
Laura M. Esquivel, senior vice president for political affairs at the Gay and Lesbian Victory Fund, will moderate the panel discussion that aims to answer that question.
After the panel discussion, poet Tabitha Joyner will join D.C. Fire and Emergency Medical Services Sgt. J.B. Wallace and David Camero, a local painter and member of the Latino History Project, in presenting a poetry show.
"Tabitha is going to do some poetry related to domestic violence," Gutierrez says. "Most of the work is related to experiences in 'What it means to be Latino and LGBT."'
Before all is said and done, Latino Pride will make a sharp turn from cerebral to celebration with a dance party and fundraiser to follow the discussion at Club Fuego, 1818 New York Ave. NE.
Last year, the Latino History Project, sponsor of Latino Pride, tested the waters with a Latino Pride event that drew about 130 people. But Gutierrez says that was a test run, rather than the full lineup of events this year worthy of being labeled the first official D.C. Latino Pride.
Regardless, the message remains the same.
"D.C. Latino Pride is a good opportunity to bring together Latinos and LGBT people and celebrate our two identities, being Latino and also being LGBT," Gutierrez says. "It's about unity, bringing together people and celebrating our experiences."
For more information about D.C. Leather Pride visit http://thedccenter.blogspot.com/; for more information about D.C. Latino Pride and Trans Pride, visit www.capitalpride.org.