Depending on her style on a given day, Elvira Kurt may look as though she's just been groomed by the producers of The L Word or tumbled out of bed. Such is the life of the Toronto-based comic who called L.A. home for 10 years, two years into motherhood with her partner.
"My hair is a crapshoot," she says. "It really fits downtown urban queer life. But when I stray from that environment, the comments I get are, 'Did something happen?' It looks like part of my head is pulling away from me."'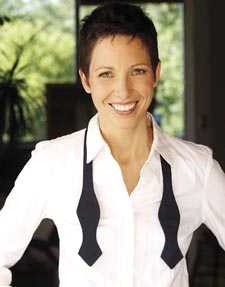 Elvira Kurt
Whatever look she's sporting, Kurt is undeniably cute and engagingly thoughtful — attributes she had to retool for her time in the states.
"I didn't think there was going to be any difference moving from Toronto to L.A., but I spent the first year really struggling. I love you people, but you're very intense. Everything has to be to the maximum, the fullest. You have the Super Bowl. Canada has the Grey Cup — not black, not white, just grey. There is a certain brashness you don't find in Canada."
Despite Canadian bilingualism, Kurt says her French isn't quite up to par to have allowed her to leave the English-speaking world behind.
"It sucks to realize how shitty my French is," she admits. "Yeah, I can speak it — at a third-grade level. 'Is that your pencil under the chair?' or 'That is a bad cake' seldom come up in adult conversation."
Sticking with English and coming to Washington, Kurt says political humor is not on the agenda, no matter how wonky D.C. audiences may be.
"We're sick of your politics," she counters by phone from Toronto. "You spend all day doing that, don't you want a break?"
Elvira Kurt heads One In Ten's and AllOutFilms' "One Night Stand Up," with Trevor Boris, Vidur Kapur and Jackie Monahan, on Saturday, June 28. The two shows, at 7 and 10 p.m., are being filmed for Logo. At the Marvin Betts Theatre at George Washington University, 800 21st St. NW. VIP tickets including preferred seating and reception are $75. General admission is $25. Call 202-994-7411 or visit www.ticketmaster.com.