The Whitman-Walker Clinic on Tuesday, June 17, announced that the organization's 1407 S St. NW administrative building has been sold to JBG Companies for $8 million. According to a clinic statement, $5 million from the sale will be used to pay off debt and other liabilities, while the remaining $3 million will be retained for "working capital reserves" as well as to bolster client services.
According to JBG, the property will be converted to residential and retail use.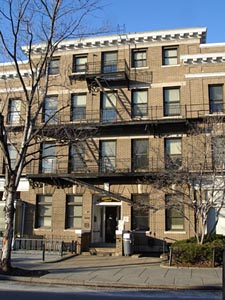 Whitman-Walker Clinic at 14th and S Streets
Don Blanchon, the clinic's CEO, said Tuesday that the bulk of the approximately 30 clinic employees now working at the S Street property, including himself, will move down the street into the clinic's Elizabeth Taylor Medical Center, 1701 14th St. NW by the end of the year.
"We're not going through a second round of downsizing or anything like that," Blanchon said, responding to whether this paring of facilities was at all similar to a staff restructuring in January that saw layoffs of more than 10 percent of the staff. At the time, the clinic employed about 240 employees, 220 of whom were full time. As part of the January announcement, Blanchon said the clinic would begin outsourcing some of its labor needs in a cost-cutting effort.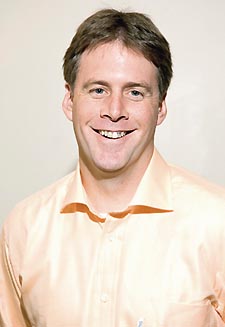 Blanchon
File photo by Todd Franson
While this sale won't lead to lay offs, Blanchon said on Tuesday, there will be additional outsourcing. This time, it will be in terms of some of the clinic's on-site lab work, which can be done elsewhere. Some tests will, however, remain onsite: rapid HIV testing, urinalysis, urine pregnancy testing, and rapid testing for streptococcus and mononucleosis.
Noting that the board is pleased with the $8 million sales price, Blanchon added that the capital reserves will help ensure the clinic's viability into the future.
"In the past, we had done asset transactions of property where we were in effect funding operating losses with the proceeds of the sale," explained Blanchon, who has served as CEO for about two years. "The board wants us to live within our means and provide high-quality care. [The capital reserves] will put us in a really good position. The clinic, like any other organization, any other business that relies on cash flow, goes through ups and downs and you always have to have a reserve."
D.C. Councilmember Jim Graham (D-Ward 1), who headed the clinic through the 1980s and '90s, reasons, "That's what real estate is for," adding that in the early 1980s there had been debate inside the clinic on whether to rent or buy facilities.
"There were those who believed the epidemic would be passing and we shouldn't put a lot of money into land," he says. "If we had been renting, the clinic would be finished. I worked to accumulate all that real estate so they'd have facilities and a financial base so that in the hard times they could take advantage of that, and they have done so. "You've got to move with the times, [but] you only sell land once, and then it's gone. I think what they're doing is pretty shrewd, though."
In spring of 2005 the clinic, founded in 1973 as the Gay Men's VD Clinic before evolving to its current incarnation, suffered a severe budgetary crisis resulting in the layoffs of about 60 employees and cutting back services.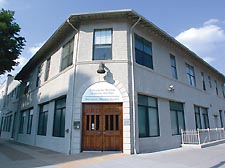 Whitman-Walker Clinic Elizabeth Taylor Medical Center
"To be able to actually have [capital reserves] is a really important thing. It is a great message about the seriousness with which the clinic — its board, its employees, the volunteers, all of us — want to make sure that the clinic is here for a very long time."
Blanchon also said that this infusion of capital is a legacy that must not be forgotten.
"It's important to remember that the reason we have these assets is by and large because people who were first impacted by the AIDS epidemic in the '80s were generous in their wills," Blanchon said. "And they left us their homes, what have you, and we were able to use those assets over time to put this physical plant together that's called Whitman-Walker Clinic."