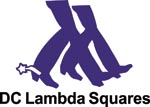 D.C. Lambda Squares is proud to be a Capital Pride Partner for the first time this year. "We're thrilled to have a stake in Pride's success and play a supporting role," says Charles Taylor, the club's membership chair. "As an LGBT organization based in Washington, we think it's important to support the community that has nurtured us for 26 years."
The club shows its support of the gay community year-round, by performing at the ASGRA Rodeo, Gay Day at Hillwood and other events. As in past years, DC Lambda Squares will show its "Capital Pride" by dancing in the parade, hosting a booth and giving dance demonstrations.
"More than a dance club, we are also a circle — or square, if you will — of friends," Taylor adds. "From going en masse to the National's Night Out to tubing on Antietam Creek, we enjoy all sorts of activities together."
With 90 members — from D.C., Maryland, Virginia and beyond — DC Lambda Squares is Washington's only square dance club, gay or straight, and was honored last year to have Mayor Adrian Fenty declare September as Square Dance Month.
In April of 2009, D.C. Lambda Squares will host the 26th Annual Convention of the International Association of Gay Square Dance Clubs, bringing more than a thousand LGBT dancers from the United States, Canada and Japan to the nation's capital. Be ready to join in the fun by learning to dance now, says Taylor. No partner needed, and "It ain't all country."
"We dance to everything from pop to show tunes," says Taylor, Thursday nights at National City Christian Church, 5 Thomas Circle NW. "If it's got a beat, we can dance to it."
Come-as-you-are to a free open house on Tuesday, June 24, 7:30 – 9:30 p.m. at the church. No dance experience needed. Visit www.dclambdasquares.org for details, e-mail info@dclambdasquares.org or call 202-577-3411.