"I tried to sing, but I couldn't think of anything. That was the hardest part," Chris Martin sang on his band Coldplay's last album, 2005's X&Y. He's wrong. If Martin didn't sing anything, it would make it difficult for him to serve as his band's front man. But if he and bandmates Johnny Buckland, Guy Berryman and Will Champion didn't play anything, that would be far harder.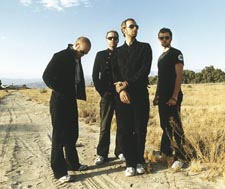 Coldplay
Forget Martin's singing: What's there to like about Coldplay without the music?
Fortunately, the music is better than ever on Viva La Vida or Death And All His Friends, the British band's just-released fourth set, for which they hired acclaimed producer Brian Eno, the man responsible for making U2 stadium-rock staples and thus paving the way for Coldplay's eventual success. The new album is the most U2-sounding set yet from the heavily U2-influenced band. The guitars, the bass and the rhythms are more pronounced, adding a depth to the band's sound to balance out its established heights. And while it's not nearly the experimental departure touted in pre-release promotion, it is certainly a progression, showing just enough new spark to make you think even greater artistic experimentation will take place next time.
None of it will be enough, of course, for those critics suspicious and dismissive of Coldplay almost from the moment the quartet came to fame. The band has termed its sub-genre "very heavy soft rock," though pretty and pleasing pop-rock is more descriptive. At its best it's a soaring kind of pop that gets as much life from keyboards as from guitars, a reflection of Martin being both a pianist and guitarist. Even with Eno, the band's music is complex in mostly subtle, measured ways, the opposite of so much classic rock.
But what about the singing? Well, perhaps thanks to Eno, Martin has made more sparing use of his falsetto — a good thing, since Martin had practically turned himself into a parody by turning too often to his higher register. He's singing more from his lower register — one step forward, a half-step back. On "Yes," for example, Martin vocally dips a bit too deep, hitting several flat notes.
The band has also made slight improvements to its lyrics. They still often suffer from being predictable or unimaginative. ("You might be a big fish in a little pond," Martin sings on "Lost!") When not obvious, the lyrics, now as ever, are often obtuse, leaving the distinct impression the band is trying to fool its way to profundity. On "42," Martin sings, "Those that are dead, are not dead, they're just living in my head." So brain dead then? Later, he adds, "You didn't get to heaven, but you made it close." So his head is close to heaven? It's hard to reason.
"Viva La Vida" is already the band's highest-charting single yet in the U.S., helped in part by frequent use in an iPod commercial, a rare time the band has approved its music for commercial purposes. While the lyrics on the track may be odd — and don't include the titular phrase — they're not obvious or obtuse, and they're as grand as the song's sound. "Never an honest word, but that was when I ruled the world," Martin sings, about the corrupting influence of power and piety.
Partly recorded in churches in Latin America, the album is steeped in references to God, choirs and prayer — not to mention life and death. The beautiful hymnal "Reign of Love" is the confession of a church pianist acknowledging a sin of omission. "How I wish I'd spoken up, or we'd be carried in the reign of love," Martin ponders.
Coldplay
Viva La Vida
Capitol
$18.98

"Reign of Love" is paired with "Lovers in Japan," just one of several two-part tracks here, another nod to enhanced artistic complexity. The album also features two largely instrumental tracks. Bold album opener "Life in Technicolor" later serves as the musical bed for "The Escapist," a secondary track that closes the album. "Chinese Sleep Chant," meanwhile, slowly builds to become a dazzler that climaxes in chants of distorted voices singing "sleep." Coming as the second part of the low-noted "Yes" track, "Chinese Sleep Chant" helps you quickly forget about Martin's earlier flat notes.
These tracks give the band's music an additional chance to shine, away from the glare of Martin's singing. If that's the hardest part, as Martin put it last time, then the end result this time is no small feat.
From YouTube: Coldplay, 'Violet Hill'