Freddie Lutz is a curious mix of the old and the new – with a signature splash of purple.
First, consider that Lutz has lived not only in the same Arlington neighborhood for 54 years, but in the very same house, save for a few years away to attend the Rhode Island School of Design. He's also worked in the Crystal City neighborhood just a stone's throw from that house for about three decades.
He's got the "old" covered. So what's "new"?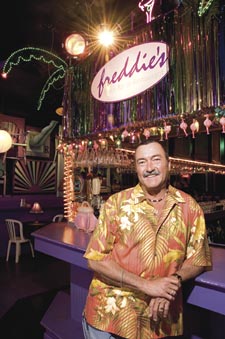 Freddie Lutz
While Northern Virginia holds the distinction of being of being almost radically progressive when compared to the rest of the state, it has but a single gay-identified bar/restaurant: Freddie's Beach Bar and Restaurant.
"I grew up in this area. I've seen that whole area go through changes," says Lutz of his and the restaurant's neighborhood across Jefferson Davis Highway from Crystal City. "People ask me why they should come out to Virginia. Because we're a gay bar in Virginia. That's how you make progress."
The point is teasingly made on the venue's Web site, where the address is listed as, "Crystal City, VA (YES honey, VIRGINIA)."
Offering a gay, though "straight-friendly," venue in a state infamous for its 2006 Ballot Question No. 1, in which a majority of Virginians approved a state constitutional amendment banning anything even resembling same-sex marriage, is one way to make progress. Lutz, however, hasn't stopped there. He served last year on the board of the Northern Virginia AIDS Ministry (NOVAM), and has served as host to fundraising efforts for the Arlington Food Assistance Center, the Arlington Gay & Lesbian Alliance, Food & Friends, The Mautner Project, Transsexual Symposium Inc. and Whitman-Walker Clinic.
One need only step into Freddie's Beach Bar and Restaurant to get a sense of the community that's gone hand in hand with Lutz's success. His mix of patrons is usually a mix of ethnicities and ages representing each of the letters in the GLBT acronym. And you can bet one of them will be wielding a karaoke microphone.
"I've been pretty well respected in the neighborhood," Lutz says of his long-time standing, making him a Crystal City stalwart. "That helped in positioning a gay bar in the neighborhood. And we're 'straight-friendly,' so everybody can join in. We get a nice crowd."
Lutz says he's hoping that crowd is as excited as he is about a summer menu he'll be unveiling later this month. He seems more excited, however, about being named a Capital Pride Hero.
"It took me completely by surprise. I didn't even know I was nominated. I'm honored."
Lutz says he and the rest of his Freddie's gang will put that excitement on display in float form June 14 at the Capital Pride Parade.
"It'll be a big one. We tend, at the last minute, to do something over the top."