For the past five years, Dan Furmansky has served as the leading voice of Equality Maryland, the primary organization advocating for GLBT-equality in the state.
You could say his style has been "hands on." Go back to September 2007, for example, when the Maryland Court of Appeals upheld a state law prohibiting marriage among same-sex couples. Furmansky, as Equality Maryland executive director, joined other GLBT advocates at St. George's Episcopal Church in Glenn Dale, singing a song of protest and encouragement.
"Equality now!" he chanted.
But even before hearing the court's decision, Furmansky says he had already decided he would be leaving Equality Maryland the following year.
"I said to myself that I thought 2008 was going to be my last year on the job," he says. "But once we got through the tumbles of the legislative session and I started to assess the year, I decided I should stick around until the end of the year, and cut the apron strings at that point."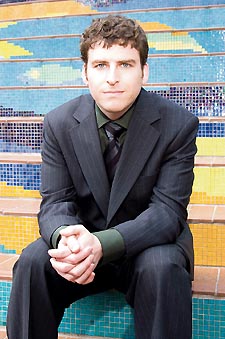 Dan Furmansky
[file photo]
True to his assessment, Furmansky last week announced his resignation, which will take effect at the end of 2008. Furmansky says, however, he is hoping to stay in the fight after his departure.
"My hope is to be a consultant and get involved in a variety of progressive issues, and for different organizations, doing lobbying, education, communications, grassroots work, and also find a platform to continue writing and speaking," he says, "and to officially launch myself as a celebrant and wedding officiant, which I've been doing already."
When Furmansky took the job at Equality Maryland, the organization was called Free State Justice and was based out of a single room in Baltimore. He was the only employee.
"Now we have six full-timers, plus lobbyists and interns and consultants, and we used to have a very small one-room office," he says. "Now everything about us is much better developed, from our capacity to communicate with our members, to our databases, to our level of visibility across the state and in the media, and in Annapolis certainly."
Equality Maryland is now headquartered in Silver Spring.
Furmansky says the board at Equality Maryland has setup a transition committee to determine what qualities to look for when hiring its next executive director, a role that he describes as "rewarding."
"The rewards have far outweighed any disappointments that we've faced as a community," he says.
"Maryland is a fascinating state. It is so many different states all rolled up into one…. There's enormous progressive potential if the LGBT community can simply harness our position in that progressive movement."