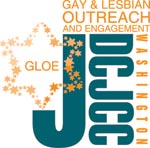 As you stand along the sidewalks watching the annual Capital Pride Parade, you'll see some people riding in cars, some riding on floats. There's one contingent, however, that you'll definitely see on foot: the Gay and Lesbian Outreach and Engagement (GLOE) program of the D.C. Jewish Community Center. Because Sabbath doesn't end until sundown that Saturday evening, the group won't be using any motorized vehicles.
It's a detail that speaks to the goals of GLOE as it works to meet the needs of the D.C. area GLBT Jewish community.
"We provide social, cultural, educational and public policy programs," says GLOE program director Justin Lerner. "Our goal is to create a space for LGBT Jews who didn't feel they had a safe space — to bring those people into the Jewish community in a comfortable environment."
Launched just two years ago as a part of the DCJCC, the GLOE program has already made a big impact in the organization and the community at large. From Purim parties to Stonewall Seders to ballroom dancing classes, GLOE finds its programs filled to capacity — and beyond.
GLOE also works closely with all the programs at DCJCC, ensuring GLBT participation across a range of activities, says Lerner.
"We very well intergrated across all programs," says Lerner. "We're trying to create strong programs within DCJCC and outside DCJCC."
As a new Community Partner, GLOE is continuing that outreach.
Although GLOE has been involved in Capital Pride in the past, being a Community Partner is a way to increase the LGBT Jewish presence for the weeklong event. In addition to their expected large contingent for the Pride parade, the group will also have a booth at the Festival, where it will share space with other social groups such as Nice Jewish Girls and Nice Jewish Boys to get the word out about their safe, and popular, spaces.
For more information about GLOE and DCJCC, visit www.washingtondcjcc.org/gloe.