Steve Ladlow was walking outside of the four- and five-story neighboring buildings that house Grand Central, the gay nightclub he manages in Baltimore, when he noticed a growing fire on the building's roof. It was about 9:30 a.m. on Monday, June 9.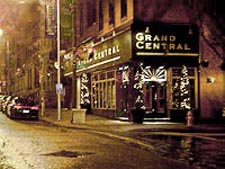 Grand Central
"I was walking down the street when I saw the flames," Ladlow says, "so I called 911." The fire, he says, was sparked during roofing work. One worker was on the roof when the fire began, but he was not injured.
On the top floor of the complex, located at 1001 to 1003 North Charles St. in Baltimore, was the office of Baltimore OUTloud, says Steve Charing, senior political analyst for the publication. Charing says "furniture, equipment and files" were damaged. At the time of the fire, only one staff member was in the building and escaped without injury. Structural damage has forced the publication to move to another location, two blocks north of its former home, says Charing.
Ladlow says insurance adjusters are still trying to determine the amount of damage the building sustained, though he suggests an estimate of about $150,000 to $200,000.
"The majority of the damage is water damage," he says. "The fire never got into the building itself. The water [to extinguish the fire] dripped down to all four floors," he says.
Despite the fire, Ladlow says Grand Central is "90 percent reopened." Charing says even with the lack of office space, the staff at OUTloud "still managed to keep working on getting out an issue for Pride. … That's something to be proud about."