If you are in the mood for a cozy evening of subtle, intelligent, and thoroughly amusing theater, then Anne Washburn's The Internationalist is just the play to curl up with. Like the kind of good little movie that assumes an educated and irreverent audience, this is a play that doesn't need to slam the message home or break any hearts to be a consummate piece of provocative entertainment.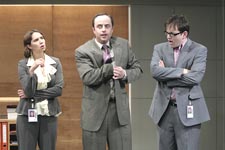 The Internationalist
The premise itself — an American sent on business to an Eastern European city where he finds nothing but cultural and romantic confusion — almost begs to be abused with cheap laughs and anti-American jibs. But although Washburn has a bit of predictable fun with the usual culprits of food and drink, she embroiders these and her more probing reflections with far more. For example, something as typical as the American's first try of a peppery liqueur starts with the obvious ("Water! Water!"), gives a nod to the appropriate metaphor regarding the initial shock of the unfamiliar, but then moves onto the rather more interesting terrain of the mindset of the woman who gets him to try it. Only a marvelous playwright can layer like this and, perhaps more crucially, only an accomplished director — here it is Kirk Jackson — can consistently tease such nuance from his actors.
Tyler Pierce gives us Lowell, the American abroad, and generally, he delivers a believably harassed and jet-lagged Yank. Importantly, he is not dumb or insensitive, just wholly unprepared for a culture born of a completely different historical experience. Again, to her credit, Washburn has not asked us to nod knowingly over and over at the stupidity of an American out of his depth. That had been done already with ham-fisted intensity and great wit by others. It is relevant that Lowell cannot function, but that is simply the first level of this play.
Unfortunately, however, as the plot thickens and things become more frenzied, Pierce resorts to the kind of wild physical exaggeration that takes the wind right out of the sails. "Madcap" is something that should only be handled by a pro; it is simply irksome in a play such as this where the rest of the cast is operating on far subtler level of humor. Pierce is best when he is reacting with his face, and barely. In a theater as intimate as the Milton at Studio, there is no need for excess.
Then there is the somewhat mysterious Sara who meets Lowell at the airport and serves as his sometime guide and initiate into the culture. Tonya Beckman Ross very nicely catches the feel of this woman from another culture, carefully avoiding the mannerisms, vocal and otherwise of an American woman, and yet not over-doing it with obvious "foreign-ness." Her bottle-blond hair and costuming, like the hair and clothing of the rest of the cast, are quietly apt identifiers — understated but evocative. Ross, like Pierce, also has the tendency to overplay, but considering the somewhat volatile Sara, it's a fine line. She is just on the right side of convincing.
THE INTERNATIONALIST
Studio Theatre
1501 14th St. NW
To June 22
$39-$57
202-332-3300
www.studiotheatre.org
The real stars of this production, however, are Holly Twyford as Irene, James Konicek, who plays Paul and Simon, Jason Lott as James, and Cameron McNary as Nicol. Together, with divine timing and wonderful attention to the personal details of their characters, these four populate the office in which Lowell is supposed to work. With inspired comic cohesion, they succeed in evoking an unmistakable "Eastern European" atmosphere while making it equally obvious that their lives are really not so very different than our own. They are the perfect universe in which to watch Lowell flail. They are also the establishment that Sara both resents and needs, and her status among them is nicely explored.
Several in this group appear in others roles, notably Twyford in a ridiculously clever rendition as a prostitute. But special mention must be made of Konicek, who makes the boss Simon and the renegade employee Paul compulsive viewing. Konicek has a kind of Frank Langella-like charisma (that's a compliment) mixed with an atypical comic flair. He is funny without ever touching the kind of SNL approach so prevalent these days. He alone is worth the airfare.