Here we are, knee deep in Pride season, and there's a song speaking to us all the way at the top of the pop charts.
"I kissed a girl and I liked it," shouts Katy Perry over a sludgy, insistent punk pulse. Aw, ain't that sweet? But then, Perry quickly adds, "I hope my boyfriend don't mind it." Hmm, okay. Girlfriend's got some explaining to do — and not just to the boyfriend.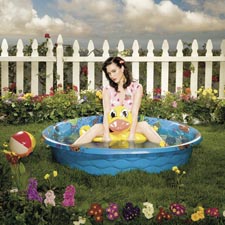 Katy Perry
"I don't even know your name. It doesn't matter," Perry says in the second verse of "I Kissed A Girl," about the female she just kissed. "You're just part of my experimental game." Later, she adds about the one-time kiss, "Ain't no big deal. It's innocent."
Oh, dear. Happy Pride everybody! Hope you're all feeling guilty, and enjoying being played by straights looking to shake shit up. Who doesn't like being used, having their feelings and emotions toyed with for shock value?
On One of The Boys (

), Perry's major-label debut, the one-time contemporary Christian artist comes across as a taunting, insecure schoolyard bully with serious gender and sex issues. On the title track, Perry says she wants to stop being considered one of the guys. She may have opted for guitar lessons over ballet as a kid, but now she's reading Seventeen, shaving her legs and desiring diamonds. "I want to be a flower, not a dirty weed," she sings. At best, she's a poisonous flower.
One of the Boys is exceedingly enjoyable musically, and it's no wonder her first single is getting so much play. Perry has a way with hooky melodies that you'll be humming almost instantly, and her clear, expressive voice is as sweet and charming as her words are juvenile and offensive. But with word-daggers like these, you just can't ignore them — and it makes the pleasure of the music all that much more painful. "You're so gay and you don't even like boys," Perry sings on the jazzy, jaunty "Ur So Gay." What makes the object of her affection "gay" then? Well, among other things, he's a skinny, electric car-driving vegetarian who wears more makeup than she does, and when he drops his drawers, "there's really nothing there." Ouch. As if it's not offensive enough that we're just pawns in her transgressive experiments, she has to resort to the unfortunately not-uncommon use of "gay" sexual identity as a slur — as in, someone no one likes or wants to be. Calling GLAAD: Time to teach this former tomboy a lesson in sensitivity.
Advertisement

| | | |
| --- | --- | --- |
| Katy Perry: One of the Boys | Jill Solbule: I Never Learned to Swim | Hercules and Love Affair |
When Andrew Butler set out to make his own music for the clubs, he decided it should be more smart than silly – the kind of music that provides fun the opposite of frivolous. So the gay man turned to Greek mythology and mostly underground disco and the house music it spawned. You know, the gay classics. The New York-based Butler was born in Denver in 1978, the year Saturday Night Fever "hijacked disco from the gay, black and Latino underground scene," according to the biographical note about his band Hercules and Love Affair (>



). The name refers to the Greek hero and his male travel companion, Hylas, with whom Hercules is said to have had an affair.
In many respects, Butler's band, which includes two main female singers and several horn and string players, is the opposite of Perry: a bit too smart, too refined for its own good. This is dance music for the hipster, art-house crowd, the type of people who enjoy and study the music, at a restrained distance, rather than those who prefer to live and feel it, by actually dancing.
But any connoisseur of the genre should give the band's self-titled debut at least a listen, if not a dance. Future single "You Belong" gets life from the house classic "Big Fun" by Inner City, with its slippy, syncopated sounds. Here, as on half of the album's tracks, it's guest vocalist Antony Hegarty of Antony and the Johnsons who steals the show, with his expressive, quavering high-pitch voice that recalls other gay greats, from Sylvester to Marc Almond to Boy George. On first single "Blind," Antony sings about the search for love that doesn't come from external forces. Butler has explained this to be about longing to escape an anti-gay environment during childhood, only to grow up and realize the gay community can't offer much if you don't love yourself first. "To see you know, to hear you now, I can't look outside myself," sings Antony, "because I feel it, like I am blind."
In much the way of disco and house, many of these songs are both underdeveloped and overdrawn. Fascinating musical and lyrical ideas are repeated over and over, as the songs build and build to different levels and shapes. But they never quite get as euphoric and wild as you might hope. At the end of "True/False, New/Real," there's the sound of someone typing on an old, clackety typewriter. But besides the title, the only other lyrical phrase to type is "I know you know I know." It's fun and cute, but, well, we all know it could be just a bit more.
From YouTube: Hercules and Love Affair, "Blind"