On most nights, particularly the pleasant ones, Hank's Oyster Bar at the corner of Q and 17th Streets NW is packed. The patio bustles with the urban energy one expects in this very gay area of the Dupont Circle neighborhood, roughly a large patch between U Street NW in the north to L Street NW in the south, Rock Creek in the west to 14th Street NW in the east.
A couple of years ago, as Hank's chef and owner, Jamie Leeds, poured her home's equity into transforming this space from Formica-countered pizza joint to high-ceilinged, fine-dining destination, she faced a fight that she feared could have bankrupted her.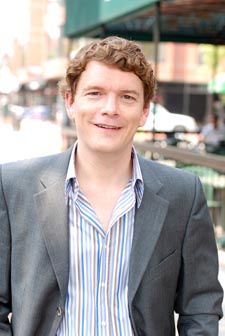 Joel Lawson
"I could understand if it were going to be another nightclub, but look at my pedigree," Leeds argued during that fight, pointing to her culinary credentials. "I have thousands of supporters and only six against me. And they have the power to hold me up."
Leeds was referring to six D.C. residents who had filed a protest with the District's Alcoholic Beverage Regulation Administration (ABRA). Now with two restaurants — the other in Old Town Alexandria — Leeds won the day.
But it's her fight and others that have created a tension between residents and business owners. Quelling that tension, even reversing the mood altogether, is Joel Lawson's No. 1 priority.
"I have priorities. I have concerns. No. 1, absolutely: restore relations between residents and businesses. They're at an all-time low. We have a serious disconnect going on between businesses and residents, especially on 17th Street."
Lawson may not be the mayor, but this gay resident of the 1400 block of Swann Street NW has recently ascended to a position that should allow him to have great influence on the mood in the Dupont area. Lawson is the new president of the Dupont Circle Citizens Association (DCCA). According to the group's literature, it was founded in 1922 "to promote and protect the interests of the residents of the neighborhood."
That mission may seem innocuous, but DCCA has taken some criticism. While the group may have supported Leeds as she battled with the six residents blocking her businesses, its protest against Club Chaos led to at least a single charge of homophobia. While Chaos closed earlier this year, following complaints that the venue was using its restaurant license to operate as a club with dancing and entertainment, other neighborhood stalwarts have also found fault with DCCA in the past.
In the fall of 2006, Rick Rosendall, the well-known gay activist who lives in 17th Street, commented on a fight between George Mallios, owner of the Trio restaurant up 17th and next-door to Hank's, and the DCCA and other residents, dealing with closing times, his sidewalk patio and a host of other issues.
"What I'm afraid of is that people like George Mallios will get sick of that hassle and we will lose the unique neighborhood places, they will all be replaced by chains whose corporate parents have deeper pockets," Rosendall said at the time.
The friction, Lawson admits, certainly gave him pause about joining DCCA's board about a year ago.
"I got a phone call from the former president [Rob Halligan] asking if I'd be interested in serving on the board," remembers Lawson, who became DCCA president in May. "My reservation was DCCA's reputation, and the ink it had received in the past. I know there are two sides to every story, and everything is usually more nuanced than it appears in a news piece or news package. I talked to them further about it, and it seemed there was a lot that DCCA did that was not talked about. That's really important.
"Perhaps it's a masochistic impulse, but I had a desire to help adjust the organization's direction and reputation."
That may be a predictable response from someone whose professional career is in public relations. Lawson also points, however, to his strict upbringing outside Pittsburgh. His parents, he says, always stressed civic involvement. That his mother and father represent opposite ends of the socio-political spectrum, he adds, helps him to see both sides of an argument and to build bridges.
"Sitting at the dinner table every night was like watching Crossfire," Lawson says with a laugh. "Maybe that's what some people would call dysfunctional, but it did work. You can have people on polar opposites who can find some way to work together, some middle ground. I look at 17th Street and I see what the possibilities are, and I also see the realities of the very serious disconnects between both sides of it. … The residents and the businesses are in the exact same boat now. If they don't come together, 17th Street will not look any better, will not improve."
The improvement Lawson seeks, he says, is filling up the vacancies left along 17th Street by businesses such as Chaos or the clothing retailer, Universal Gear, which recently left the strip for 14th Street NW.
Though some entrepreneurs in the area, such as Latif Guler of Jack's Restaurant and Bar, praise Lawson's efforts as "awesome," Lawson says he's well aware that he has his work cut out for him. At this point, with a one-year term ahead of him, he says he has no idea whether the coming months will find him ready to take on another term, or completely spent.
"This is what you do with your life. This is what you do with your spare time and your spare money. This is simply what you do. It's an obligation. So I'll give it a good year. If that year comes out okay, I'll do it again. If not, someone else will come along — hopefully.
"D.C. still has gaps. It still has work that has to be done. It still has agencies that don't operate at 100 percent. So whether it's getting a foot patrol, taking care of rats, helping a school, helping senior citizens, if we don't do it, who's going to do it?"
For more information about the Dupont Circle Citizens Association, visit the group online at www.dupont-circle.org.